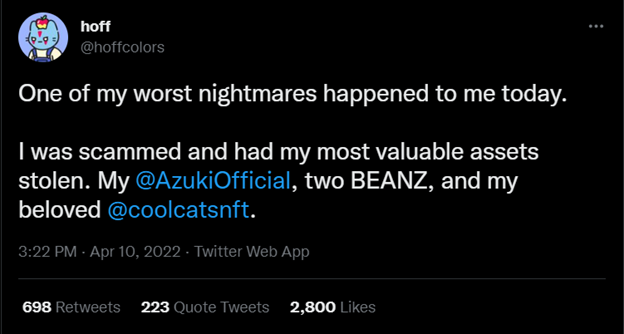 Yet another security breach has raised the alarm for NFT collectors and investors, as another "NFT whale" falls prey to a serious hacking attack. Following the latest OpenSea hack that transpired earlier this year, the latest victim lost a series of digital assets including tokens from prized collections such as Cool Cats, Azuki, and 2 BEANZ NFTs.
The gmBlockchain team further reports on this giving you all the details that you need to know and what you can do to prevent your wallet from falling into the hands of crypto hackers. Continue reading below to find out more.
The Latest Hacking Victim
The victim in question is NFT Whale, @HoffColors. An NFT whale is a term for individuals or groups holding large amounts of crypto-related assets, such as bitcoins and NFTs. In a tweet by @HoffColors, he confirmed the crime saying:
"One of my worst nightmares happened to me today. I was scammed and had my most valuable assets stolen. My @AzukiOfficial, two BEANZ, and my beloved @coolcatsnft."
It comes as no surprise as a report released by blockchain analysis firm, Chainalysis, confirms that crypto criminals comprise 3.7% of all crypto whales, owning more than US$1 million worth of cryptocurrencies.
The scam happened when he visited a site called "swaptic." Seemingly legitimate, he planned to trade a rare Apocalypse for Deadfellaz and ETH 0.5 in blockchain coins. Unfortunately, the trade never pushed through, and resorted to a compromised digital wallet losing his precious NFTs.
What to Do to Protect Yourself from Getting Scammed
Investing your hard-earned money in cryptocurrencies may prove to be an extremely risky thing to do. But as long as you're armed with knowledge and become vigilant, you can do some measures from your end to avoid this from happening.
Here are some tips that can help you when transacting with NFTs:
Do your due diligence and research the NFT collection well. It's easy to get hyped by a cool-looking collection. But checking their roadmap, social media platforms like Discord and Twitter, and even their website will give you enough info about the entire project.
Refrain from transacting with strangers. While an offer might seem tempting and "too good to be true," it's better to treat it that way and not hastily engage with any transactions, and always do so in third-party accredited NFT marketplaces.
Do not open suspicious links from social media or messaging platforms. Always screen messages and never click links from people you do not know to avoid potential phishing attacks.
gmBlockchain's Thoughts
As hackers become smarter in figuring out how to decrypt security protocols on various crypto platforms, or even perform scamming tactics on unsuspecting victims, it's always best to be very careful and in thinking twice before jumping into any transaction. And as always, you should report any suspicious links or activities to alert authorities.