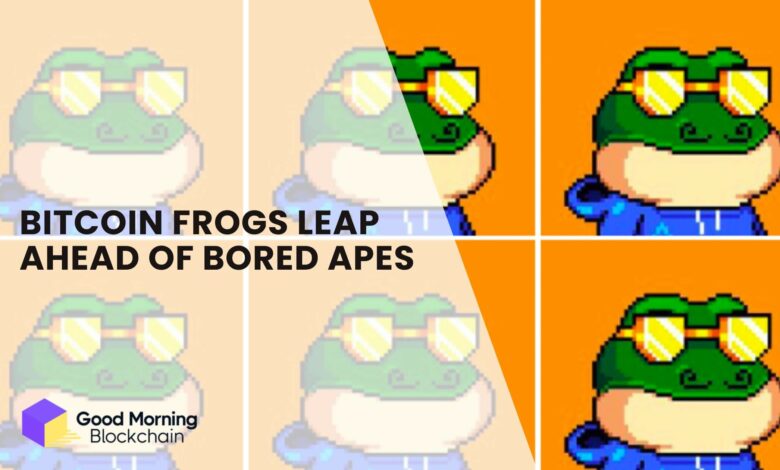 In an astonishing turn of events, Bitcoin Frogs has hopped ahead of Bored Apes to claim the title of the most traded collection of non-fungible tokens (NFTs) within the past 24 hours.
This achievement marks a significant milestone for the burgeoning Ordinals market. The collection has generated a whopping $2 million in trading activity, with approximately 700 individual transactions taking place.
According to CryptoSlam's statistics, the renowned Bored Ape Yacht Club, which previously held the crown for the world's most valuable NFT collection in terms of market share, found itself in fifth place during the same period, with a trade volume of around 859,700 ETH.
The trading volume of Bitcoin Frogs as an NFT collection has already reached an impressive $5.9 million in just this month alone. This surge indicates a steady increase in the popularity of Bitcoin Frogs, as the collection's trading volume of approximately $52,000 in April witnessed a significant rise in interest and demand.
News of this remarkable accomplishment quickly spread across Twitter, igniting speculations about the long-term sustainability of the platform.
On its Twitter account, Bitcoin Frogs is described as "10,000 unique frog collectibles minted directly on the Bitcoin blockchain." The project presents itself on Discord as a "free-to-mint" initiative aimed at promoting the adoption of Ordinals among blockchain developers and users.
The meteoric rise of Bitcoin Frogs underscores the dynamic and unpredictable nature of the NFT ecosystem. Industry participants eagerly anticipate future advancements, as competition for the most sought-after NFT collection continues to intensify.