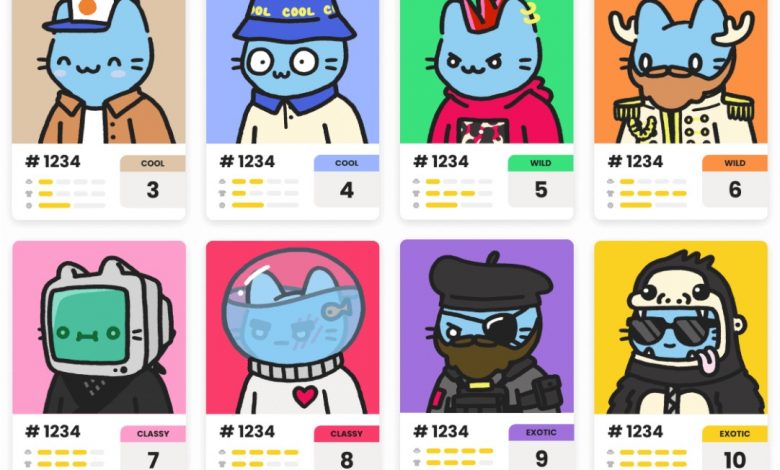 Cool Cats NFT are some of the hottest NFT collections that have dropped in 2021. If you love Anime and are fond of cutesy, cartoony artwork, you'll probably be interested in what this NFT collection has to offer. But you're probably wondering what value it brings to the table, especially if you're planning to expand your crypto portfolio.
The gmBlockchain team is here once again to help you understand the NFT better and see the utility it offers us as a good crypto investment. We'll walk you through this adorable world of some of the coolest cats to grace the blockchain realm. Read more below.
About Cool Cats NFT
The Cool Cats collection is some of the latest NFTs circulating in the market right now. As one of the hottest NFT projects to drop in 2021, the randomly generated NFTs living in the Ethereum blockchain consists of 9,999 randomly assembled Cats with over 300,000 total options. This means no Cool Cat is ever the same.
As every cat has its unique characteristic, your cat's cool meter is measured depending on the items they're made of. The rarer the items on the Cool Cat, the higher the points they'll earn ranging between 3 and 10 points. This would affect raffles and contests and may impact breeding longer term.
Cool Cats NFT Roadmap
The future of Cool Cats NFT will be so much more than just an art project. Its creators promise to invest in a gamified ecosystem wherein holders may grab more rewards as they hold onto their Cool Cats token asset.
Cool Cats is set to develop interactivity among fellow holders making a one-of-a-kind universe for your Cool Cats tokens while exploring the possibility of collaborating with various brands and personalities. Numerous personalities and influencers are seen promoting the project with the likes of Mike Tyson and Faze Banks expressing their interest in the NFT collection. The Cool Cats Discord Channel also has more details regarding this shared with the community.
Cool Cats Utility?
Apart from the allure of owning these charming and cuddly-looking creatures, Cool Cat allows users to own a piece of quality digital art from the Internet. Its purpose, however, isn't limited to PFP (picture for proof) alone. A Cool Cat Holder can enjoy a gamified ecosystem.
According to its official site, its creators return 20% of all the ETH raised to its community via contestants and virtual raffles. Owners can expect bigger and exciting things like breeding your cats, owning next-gen Cool Cats, and also accessing the official Cool Cats app. As this is a community-driven endeavor, holders have the voice in the direction that the NFT will be going in in the future.
The Creators of Cool Cats
The Cool Cats NFT project is a collaboration by 4 digital content creators under the pseudonyms Clon, Tom, Lynq, and ELU. These individuals are deeply passionate about art and cryptocurrency and have decided to combine these two worlds in the metaverse leading to the creation of the NFT collection.
The four creators specialize in various key areas of the project and also wear different hats. For instance, ELU is the creative direction lead but also handles marketing and project management. Meanwhile, Tom handles technical interfaces and contracts. Clon is the primary illustrator and Lynq maintains and develops its official website.
When to Mint Cool Cats NFT?
These digital tokens have already been minted since last year. However, you can buy Cool Cats from secondary markets, like OpenSea. To buy these cute and furry critters, you must first establish a digital wallet (such as MetaMask) with the currency Ethereum, to be eligible to buy a Cool Cat token.
Where to Buy Cool Cats?
You can buy Cool Cats NFT at its official trading and selling platform, OpenSea. Just like other NFT projects such as Party Bear NFT, Cool Cats is curated and stored at the Ethereum blockchain. As of this writing, the average floor price for a Cool Cats NFT is 11.8 ETH or US$36,049.
gmBlockchain's Thoughts
The NFT project's roadmap may not be as fleshed and detailed as would want it to be, but it shows promise, especially on how effective the entire team is promoting and creating a need for these NFT critters. It's best to wait for a bit and see what Cool Cats NFT will offer in the long run.