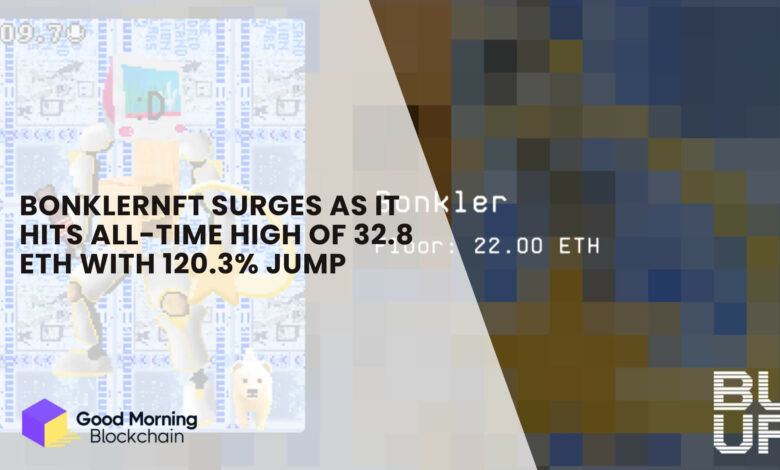 In a dazzling display of success, BonklerNFT continues its meteoric rise with a staggering 120.3% surge in floor price, as reported by CoinGecko.
Operating on the Ethereum blockchain, these non-fungible tokens have reached an unprecedented milestone, hitting an all-time high of 32.8 ETH, equivalent to a whopping $58,666.
Introducing BonklerNFT
Today, Bonkler commands a solid price floor of $58,607, accompanied by an impressive 24-hour sales volume of 15.00 ETH. The collection boasts a total of 33 minted NFTs, currently held by 24 distinct holders, resulting in a combined market capitalization of $1,934,039.
At its core, Bonkler represents a revolutionary fusion of experimental finance and artistic expression. Serving as a trailblazing reserve-backed NFT project, Bonkler's Paced Generative Mint takes enthusiasts on a year-long immersive journey, unveiling hidden rarities along the way.
With its intricate aesthetics and deliberate rarity, Bonkler challenges traditional notions of price discovery, inviting enthusiasts to explore and immerse themselves in the captivating realm of NFTs.
One of Bonkler's key features is the introduction of new creations every 23 hours, tantalizing bidders with increments of 0.1 ETH. Additionally, each minted Bonkler contains redeemable shares tied to its sale price. Investors have the opportunity to redeem these shares for ETH from the Treasury, but at the cost of burning the corresponding Bonkler. This unique approach adds an exciting dimension to the world of financial art, offering investors engaging experiences and potential rewards.
Making Waves in the Headlines
Although a relatively new project, BonklerNFT made a significant splash when its first NFT was sold for a staggering 60 ETH, equivalent to approximately $125,000 at the time. This groundbreaking sale, representing the first piece in a collection of 400 Bonklers, projected a remarkable market cap of $50,000,000.
The Bonkler collection has artfully blended digital art and cryptocurrency, showcasing the transformative power of NFTs within the art world. It challenges conventional perceptions, proving that art can transcend physical boundaries and find its unique value in the digital realm.
While it remains to be seen how this development will shape the industry, it signifies a potential shift in the way we perceive art, from something tangible to an embodiment of uniqueness within the digital space. BonklerNFT has undoubtedly set the stage for an exciting future in the convergence of art and technology.