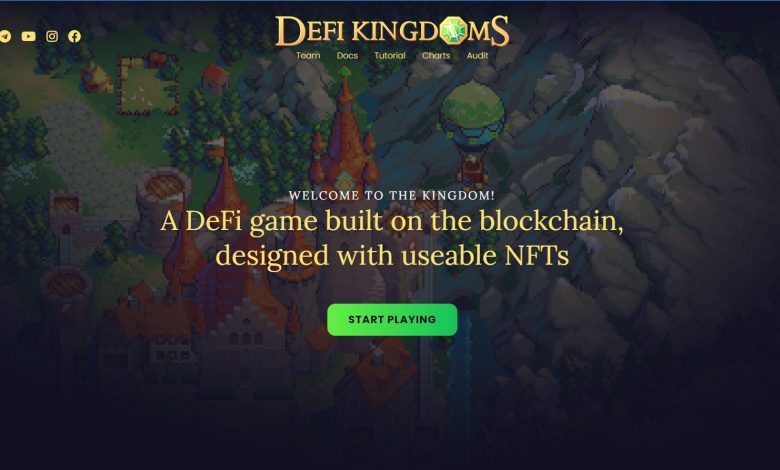 There is something more to crow about in the world of blockchain gaming as the DeFi Kingdoms, once playing second fiddle, finally inched higher than its direct rival, Axie Infinity. The news comes as DappRadar, a dapp information provider, reports that DeFi Kingdoms more than tripled the value posted by its biggest competitor, generating some USD1.84 billion in transactions over January 2021.
As we see a stiff battle among the GameFi platforms, you're surely curious to know more about the newcomer and how they're able to go about their strategy. Continue reading to find out more!
DeFi Kingdoms' Strategy
As a play-to-earn game, DeFi Kingdoms was able to maximize and explore blockchain games technology to its advantage. Thanks to its team of developers, artists, and business specialists, the blockchain game stands as the biggest in terms of gaming transactions in the crypto space.
Using the Harmony ONE blockchain, it accumulated over USD775 million, or around 64% of the total value of the blockchain, locked earlier in January of 2021. Crypto experts and media outlets are calling DeFi Kingdoms the perfect example of GameFi, or the gamification of decentralized finance.
"As big fans of the innovation happening in DeFi and blockchain technology in general, our team had been waiting for a DeFi project to embrace the full potential of the blockchain in game form. We wanted a DEX that allows holders to not just hold a monetary token, but own a token that is usable, valuable, and gives back in many fun ways," the DeFi Kingdoms states in its official document.
Pundits are now calling DeFi Kingdoms the essential dapp for the rising Harmony ecosystem. It has a TVL of approximately USD1.2 billion and has attracted at least 22,000 daily unique active wallets or UAWs in January of 2022 alone.
About the DeFi Kingdoms
The blockchain game is a "cross-chain, play-to-earn MMORPG built on a strong DeFi protocol," according to its website. DeFi Kingdoms is banking on the use of DEXs, liquidity pool opportunities, and a large market of rare, utility-driven NFTs which helps create what it describes as a "beautiful, immersive online world in the incredibly nostalgic form of fantasy pixel art."
As with any game, DeFi Kingdoms features missions and quests, as well as various kingdoms and realms that players can explore. Hero NFTs are playable characters who can craft, trade, and equip themselves with special items to help them advance in the game. You can check more of DeFi Kingdoms on their official Discord server.
gmBlockchain's Thoughts
The GameFi industry may just be in its infancy stages, but with the recent developments in the sector, we'll see a more competitive field with a possibility of new players in the field taking on these giants. It's certainly a plus for users and blockchain enthusiasts alike as they get the chance to diversify their assets and figure out the best platform for them to grow.
We are sure to see a comeback from Axie Infinity, as they retaliate with a bolder plan to overthrow DeFi Kingdoms from its current position. Be sure to subscribe to our blog to check the latest developments on all GameFi news.