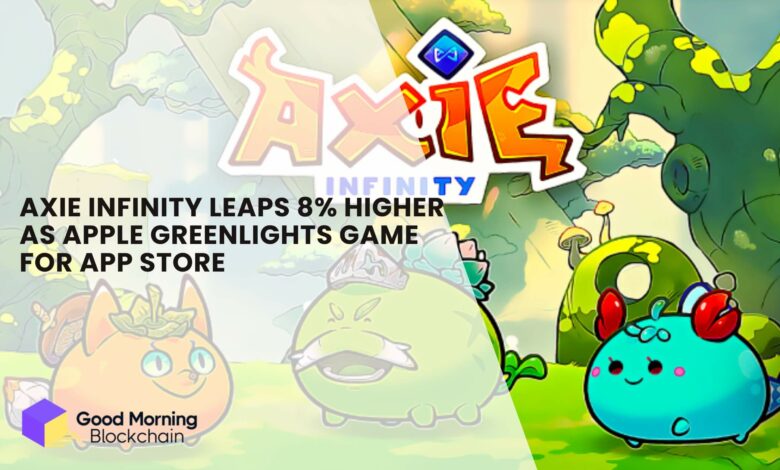 In an exhilarating turn of events, the price of Axie Infinity's native token (AXS) has experienced a remarkable 8% surge, reaching $7.26. This rally comes amid expanding volumes, signaling renewed investor interest in the project.
The surge in AXS prices is a significant development, considering the recent downturn in blockchain and non-fungible token (NFT) activity. The decline in Bitcoin (BTC) prices has added to the challenges, with BTC's drop affecting altcoins like AXS as well. In fact, AXS is currently trading approximately 25% lower than its peak in April 2023.
So, why the sudden rally for AXS?
The surge in prices aligns with the approval of Origins, an Axie Infinity game, for listing on Apple's app marketplace. This approval holds immense significance for the NFT ecosystem, as it marks the first time Apple has allowed an externally-purchased NFT to be usable on its app store.
The listing on the Apple app store comes less than six months after the game's limited release on the Malaysian Google PlayStore. The initial release in Malaysia provided an opportunity for the development team to fine-tune the game before expanding its availability to other countries.
Axie Infinity plans to adopt a similar strategy for Apple app store users. In the early version of iOS, players will have the option to use their NFT Axies or upgrade starter Axies before diving into adventure or arena modes.
Additionally, a technical candlestick arrangement is supporting the bullish sentiment, with expanding volumes indicating heightened participation. This surge follows a period of consolidation following a 30% drop from the peak in April.
Axie Infinity's popularity has been soaring, with over 2 million daily active users embracing the blockchain-based game. However, the game has faced criticism for its high entry barrier, requiring players to purchase three Axie NFTs to start playing.
While it remains to be seen how AXS prices will trend in the coming months, the recent rally is a positive sign in the face of the overall low activity in the blockchain and gaming sectors. NFT trading volumes have experienced a significant decline, shrinking from over $42 million to around $112,000 in early May.
As the market dynamics evolve, Axie Infinity's resilience and its growing community of players and investors position it for continued success in the ever-changing world of blockchain gaming.