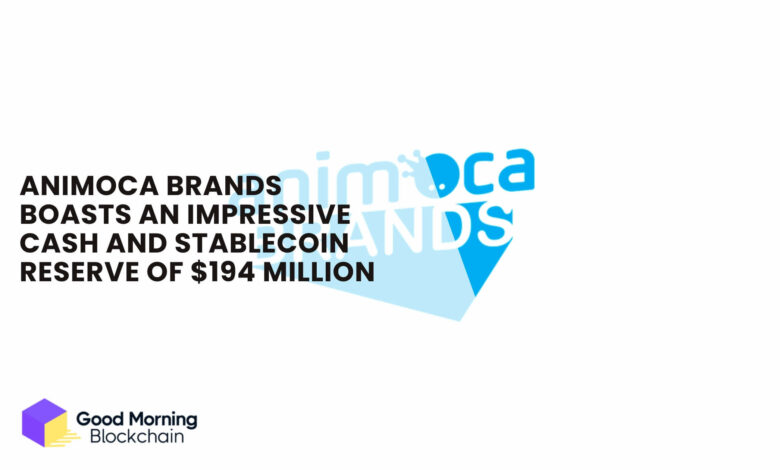 Animoca Brands, the innovative force in blockchain gaming, has proudly revealed its robust financial position to sustain its operations. In their recent blog post, the Hong Kong-based company disclosed a staggering $194 million reserve in stablecoins as of April 30, 2023.
But that's not all—Animoca Brands also holds an impressive $566 million worth of liquid digital assets, which includes their highly sought-after utility token, SAND, powering the "Sandbox NFT metaverse platform." Additionally, the company possesses substantial token reserves from its majority-owned Web 3 subsidiaries, currently valued at a remarkable $2.7 billion.
Looking back at their financial status, Animoca Brands experienced substantial growth in the last quarter of 2021, recording $148 million in bookings and other incomes. These revenues were derived from NFT sales, token sales, and non-blockchain activities. However, their success didn't stop there. By the first quarter of 2022, their bookings and other incomes skyrocketed to $573 million—a remarkable increase of $425 million. With 340 portfolio investments worth $1.5 billion, Animoca Brands established itself as a major player in the industry.
In terms of their cash balance and digital assets, the company held $98 million in cash and $211 million in various cryptocurrencies such as BTC, USDC, BUSD, ETH, and USDT during Q1 2022. Their off-balance sheet digital asset reserve included tokens like SAND, TOWER, QUIDD, REVV, GMEE, PRIMATE, valued at approximately $4.2 billion as of April 30, 2022.
Looking ahead, Animoca Brands continues its pursuit of excellence in gaming and the metaverse. They recently announced a partnership with Notre Game, one of their subsidiaries, and the prestigious martial arts organization ONE Championship to develop an NFT-powered mobile game called ONE Fight Arena. Player testing for the game is slated to begin in Q4 of 2023, followed by a global launch in Q1 of 2024.
Furthermore, the company has entered into a commercial agreement with STC Play to publish video games across various distribution channels, including STC's, in the MENA region. Another exciting development is their partnership with ALTAVA Group, fueling anticipation for even more remarkable achievements.
Animoca Brands is a pioneering force in gamification, blockchain, and digital entertainment. With a strong focus on advancing digital property rights for the open metaverse, the company has introduced groundbreaking products such as the SAND token and REVV token.
Notable original games in their repertoire include The Sandbox, Crazy Defense Heroes, and Crazy Kings, among others. Despite a challenging journey into the crypto space, Animoca Brands has made significant strides and was recognized as one of the "high-growth companies in Asia-Pacific" by the Financial Times in 2021.