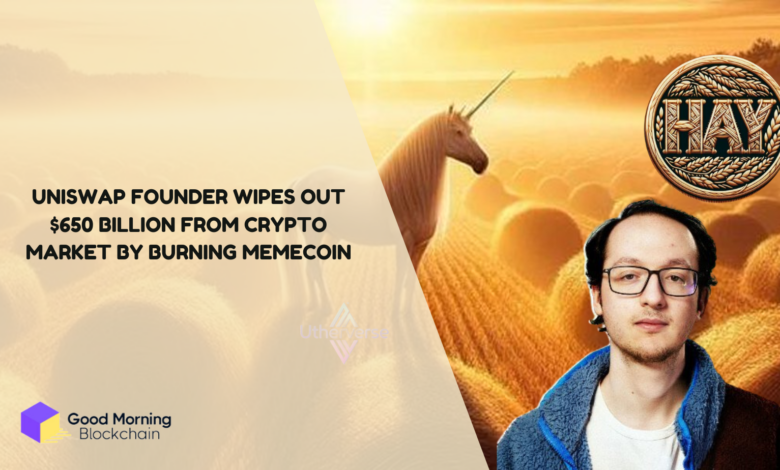 Hayden Adams, the founder of Uniswap, a popular decentralized exchange platform, has burned nearly all of the HayCoin (HAY) supply, effectively removing $650 billion from the crypto market.
The move, which he announced on X (formerly Twitter) on October 20, 2023, was a response to the unexpected and wild price fluctuations of HAY, which was originally a test token/memecoin he created before launching Uniswap five years ago.
HAY was intended to be a test token for Uniswap's functionality, but it gained popularity as a memecoin among the meme side of social media.
Despite its test nature, HAY attracted significant trading volumes and speculation, reaching a peak price of $6.50 per token on October 19.
This made HAY one of the top 10 cryptocurrencies by market capitalization in the market for a while.
Adams expressed his surprise and discomfort with this development, stating that he did not endorse or support HAY as a legitimate cryptocurrency.
He also said that he owned almost the entire HAY supply, which he received for free when he created the memecoin.
He decided to burn 99.9% of the HAY supply, equivalent to 100 billion tokens, to end the speculative frenzy and distance himself from the memecoin madness.
Token burning is a process of permanently destroying a certain amount of tokens from circulation, usually by sending them to an inaccessible address.
This reduces the token's supply and can increase its scarcity and demand, leading to higher prices. However, Adams dismissed the price surges of HAY as "silly" and "meaningless", and urged people to stop trading HAY and focus on more serious projects.
The crypto community reacted with mixed emotions to Adams' decision. Some praised him for his honesty and integrity, while others criticized him for wasting an opportunity to sell the tokens and use the money for charitable or developmental purposes.
Some also raised concerns about the potential tax implications of burning such a large amount of tokens, which could be considered as income or capital gains by tax authorities.