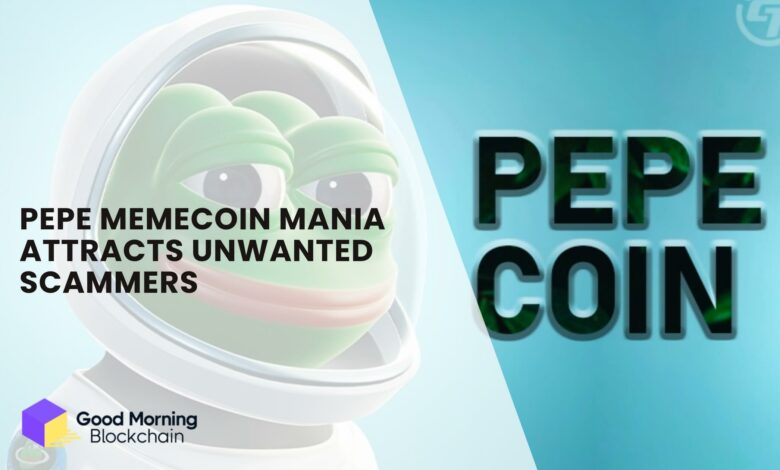 As the frenzy around Pepe memecoin continues to grow, scammers have seized the opportunity to infiltrate the crypto space, causing concern among investors. Security firm CertiK has issued a warning about a fraudulent Pepe website that offers rewards but is actually linked to a phishing contract.
The situation has become more worrisome with the emergence of multiple memecoin scams. In the last three days alone, blockchain security firm PeckShield has identified at least 10 scam tokens that have duped investors by removing liquidity abruptly, leaving them empty-handed.
Social media platforms, particularly Twitter, have also seen an increase in fake Pepe claim sites. CertiK has cautioned the community about one such fake site, advising users to be cautious as it is associated with a phishing scheme.
Even Pepe's official community Telegram group has not been spared from the scammers. Fake accounts have been posting messages, attempting to redirect users to various suspicious websites. The legitimate members of the group have been vigilant in reporting and banning users suspected of promoting scams.
The creators of Pepe have repeatedly emphasized the importance of avoiding suspicious airdrops and giveaway claims. They have also clarified that they have no association with other tokens or projects, urging the community to exercise caution.
Pepe experienced a significant milestone when it reached a market capitalization of $1 billion after being listed on Binance on May 5. The token witnessed an astounding surge of over 4,000% since its inception in mid-April, propelling its total market cap to $1.82 billion. However, the euphoria was short-lived, as the token's market capitalization plummeted by over a billion dollars just days after reaching its peak.
In addition to the scam concerns, Pepe has faced controversies related to its association with hate symbols. Crypto exchange Coinbase recently issued a warning to its users, stating that Pepe has been adopted as a hate symbol by alt-right groups. This announcement sparked backlash from the Pepe community, with some demanding a retraction and threatening to close their accounts with the exchange.
As the popularity of Pepe memecoin continues to rise, it is crucial for investors to remain vigilant and exercise caution when engaging with the token and related websites. Staying informed and avoiding suspicious claims can help protect against falling victim to scams and potential financial losses.