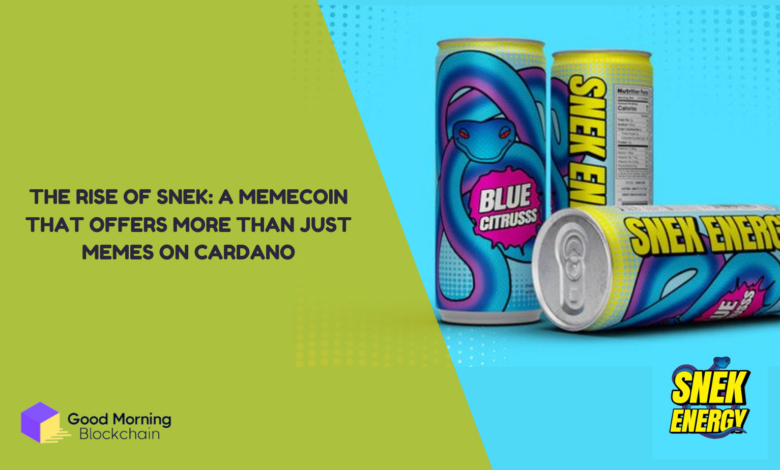 The price of SNEK, a popular memecoin based on the Cardano ($ADA) ecosystem, has seen its price rise by more than 56% over the past week, and over 16% over the last 24-hour period to outperform the wider cryptocurrency market.
According to available market data, SNEK's trading volume over the last 24-hour period was over $770,000, and a fully diluted market capitalization of just $16.8 million, making it a minor cryptocurrency in the space.
The memecoin, which claims to be the "chilliest meme coin on Cardano," plans to reward holders in the SNEK's cryptocurrency community with free tokens.
The community behind SNEK has launched an energy drink, with a 12-pack of cans selling for $45.
It also worked on a web3 game that's set to soon be released and has launched a staking mechanism for token holders called "Last Snek Standing," distributing rewards to stakers that keep their funds staked until the end of a staking period.
The energy drink, which is branded with the SNEK logo and slogan "Fuel Different, Drink Sneak," is described as a sugar-free, carbonated beverage that contains caffeine, vitamins, and natural flavors.
It is currently available in two flavors: Green Apple and Tropical Blast and can be ordered online through the official website.
While the web3 game which is still in development, is expected to be a multiplayer online role-playing game (MMORPG) on the Cardano Blockchain.
For the game, there are plans to feature SNEK-themed characters, items, and quests. There are also plans to integrate SNEK tokens as an in-game currency that can be used to buy, sell, and trade digital assets.
It will also leverage the Cardano blockchain scalability and security features.
The SNEK project has attracted attention from various crypto influencers and media outlets, such as DappRadar, CryptoGlobe, and TradingView, who have praised its innovative approach and potential in the Cardano ecosystem.
SNEK is one of the many memecoins that have emerged in the crypto space in recent months, following the success of Dogecoin ($DOGE) and Pepe.
However, unlike some of these coins that rely solely on hype and speculation, SNEK aims to provide real value and utility to its holders through its products and services.