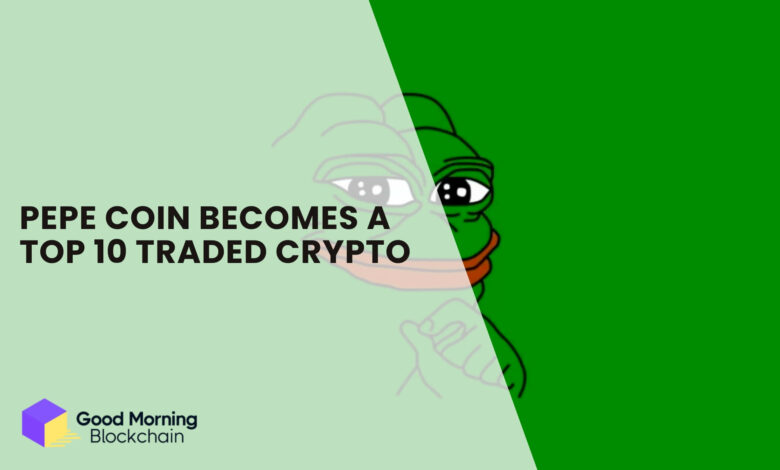 Pepe Coin, the meme-based cryptocurrency, has made waves in the crypto market by entering the top 10 most traded cryptocurrencies by 24-hour trading volume. According to CoinGecko, the coin is currently ranked eighth, ahead of BNB and behind Binance USD (BUSD). Despite experiencing a 2% dip in the past 24 hours, Pepe Coin's price of $0.00000192 reflects a 70% gain in just one week and a staggering 650% increase over the past two weeks.
While Pepe Coin was initially dismissed as another meme token, its ability to sustain and grow its early momentum is a clear indication that it has become an established meme token in the crypto space. With a trading volume that surpasses that of Dogecoin and Shiba Inu, Pepe Coin has proven that it could continue to climb higher up the crypto leaderboard.
Pepe Coin Enters Top 10 Most Traded Cryptos, Price Surge Sparks Hopes for $1 Goal
In the last hour alone, Pepe Coin has gained 0.5%, indicating that the meme token is experiencing a recovery in momentum. The coin's recent indicators had bottomed out, with its relative strength index (purple) dropping below 30 early in the morning. However, Pepe Coin's short-term moving average (yellow) has recently risen above its long-term average (blue), which suggests that a substantial recovery could be on the horizon in the next few days.
Although Pepe Coin was initially seen as worthless, whales and exchanges have started to invest in the token. Several major exchanges, including Binance, KuCoin, and OKX, have recently listed Pepe Coin, which has been seen by the market as a validation of the token.
Retail investors are rushing to buy the token every time a new exchange lists it, driving up demand and limiting supply. Despite the fact that its anonymous founders have dumped large quantities of the token on the market, Pepe Coin has become a 'big' token with over 108,000 holders, up from just a few thousand holders a week ago.
Pepe Coin's momentum is likely to help it continue to rise in the medium and long term, with analysts predicting that it could recover from its current price of $0.00000192 and reach $0.000003 or $0.000004 in the coming weeks. If the wider market becomes more bullish, Pepe Coin could easily lose one or two decimal places by the end of the year.
New Meme Token Gaining Traction in the Crypto Market
SpongeBob (SPONGE), another meme token, has also witnessed significant gains since its direct listing on Uniswap on May 4. With gains of over 2,500%, the new ERC-20 cryptocurrency has also been created by anonymous founders, and like Pepe Coin, its market has already taken on a life of its own.
SpongeBob has begun receiving a growing number of CEX listings, including from MEXC, LBANK, CoinW, and Toobit, and other listings are expected to follow. If SpongeBob attracts listings from top-tier exchanges, it can be expected to enjoy significant rallies in the near future.
Pepe Coin has a maximum supply of 40.4 billion, which is significantly lower than SpongeBob's supply of just over 420 trillion. Pepe Coin currently has over 10,800 holders, and its momentum is likely to help it rise to $0.001 and higher in the coming weeks. If Pepe Coin attracts listings from top-tier exchanges, its all-time high of $0.002394 could easily be surpassed.
In summary, Pepe Coin's recent entry into the top 10 most traded cryptocurrencies by 24-hour trading volume is a clear indication of the growing influence of meme-based cryptocurrencies in the crypto market. While some may dismiss these tokens as worthless, the ability of Pepe Coin and SpongeBob to maintain their