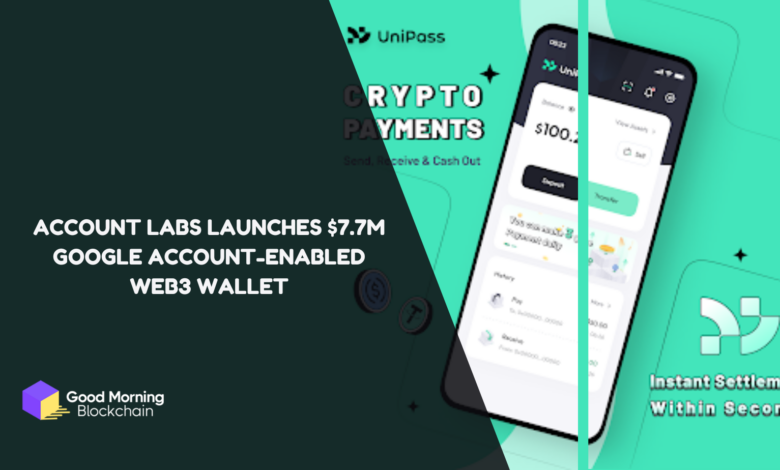 Account Labs, a Web3 and crypto platform, has announced that it has raised $7.7 million in a pre-Series A funding round led by Amber Group, MixMarvel DAO Ventures, and Qiming Ventures.
The funding will be used to launch its UniPass wallet app, which allows users to send, receive, and cash out stablecoins using their Google accounts.
Account Labs is the result of a merger between UniPass, a software wallet developer, and Keystone, a hardware wallet maker, in May 2023.
The merger between the two companies aims to provide cryptocurrency wallets that enable users to maintain control of their own private keys and access them using their Google accounts instead of seed phrases.
The UniPass wallet app, which was launched on Thursday, October 17th, supports USD Coins (USDC) and Tether (USDT), two of the most popular stablecoins in the crypto market.
Stablecoins are cryptocurrencies that are pegged to fiat currencies, such as the U.S. dollar and have minimal price volatility.
To use the wallet, users are required to sign in with their Google accounts to the UniPass wallet app and top up their wallets using Mastercard and Visa through Google Pay.
They can also cash out their stablecoins using cards, bank transfers, and other payment methods in more than 170 countries and 50 currencies.
See also: Telegram Launches Crypto Wallet Built on TON Blockchain
The UniPass wallet app is built on the Polygon network, a layer 2 scaling solution that enables fast, cheap, and secure transactions on Ethereum.
The app also uses account abstraction, a feature that allows smart contracts to be written into self-hosted wallets. This enables the app to integrate with Google accounts and other web services without compromising security or decentralization.
The UniPass wallet app is now available for download on Google Play Store and Apple App Store. Users can also visit the official website for more information.