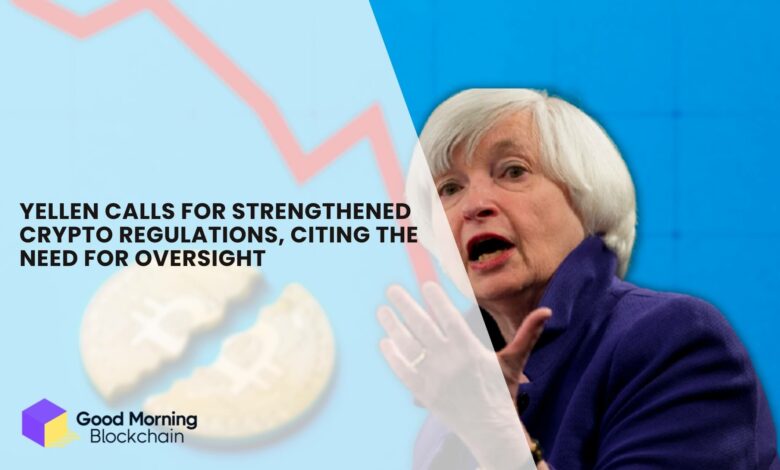 In the midst of mounting legal battles involving major cryptocurrency platforms Coinbase and Binance, U.S. Treasury Secretary Janet Yellen has stressed the importance of robust regulation to protect crypto users and investors.
During an appearance on CNBC's Squawk Box, Yellen expressed her support for U.S. financial regulatory bodies such as the SEC and CFTC in their efforts to ensure the safety of individuals involved in the crypto space. Although she refrained from commenting on the specific lawsuits against Coinbase and Binance, her statements align with a report from the Financial Stability Oversight Council (FSOC), where she serves as chair. Last year, the FSOC acknowledged that cryptocurrencies could pose a potential threat to U.S. financial stability under certain circumstances.
Yellen recognizes the existing gaps in crypto regulations and urges Congress to take action in creating more comprehensive rules for crypto companies. She believes that collaboration between the Treasury Department and Congress can lead to more effective legislation.
However, progress in legislating crypto has been slow in Congress due to partisan divisions on the matter. A draft bill proposed by Republican Representatives Patrick McHenry and Glenn Thompson seeks to address the CFTC and SEC's dispute over the classification of tokens as securities or commodities. If passed, this bill would allow token issuers to advocate for their currencies to be recognized as commodities.
Additionally, attention has turned to central bank digital currencies (CBDCs), with two separate bills introduced by Republicans aiming to halt their progress. The Digital Dollar Pilot Prevention Act, introduced by Rep. Alex Mooney, and the CBDC Anti-Surveillance State Act, proposed by Rep. Tom Emmer, both aim to curb the advancement of CBDCs.
When it comes to stablecoins, draft bills have been put forth by members of both parties. However, even bipartisan bills face challenges in making it through the necessary committees for a vote. For instance, the 'Responsible Financial Innovation Act,' introduced by Senators Cynthia Lummis and Kirsten Gillibrand, aims to integrate digital assets into the U.S. system but has yet to be reintroduced in the new Congress.