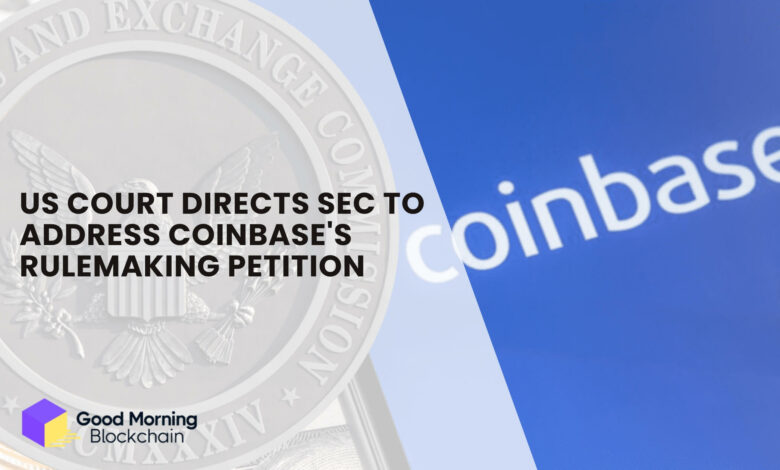 A US court has issued a directive ordering the Securities and Exchange Commission (SEC) to address Coinbase's rulemaking petition within a week. The leading cryptocurrency exchange has been seeking regulatory clarity for digital assets amidst an ongoing lawsuit and increased enforcement actions in the market.
Coinbase had filed a challenge under the administrative procedure act, urging the SEC to respond to its petition for formal rulemaking in the digital assets sector. The exchange argues that the current regulatory framework, primarily focused on securities, is ill-suited for the unique nature of cryptocurrencies.
In response to Coinbase's lawsuit, the court has mandated the SEC to provide a response within seven days. The SEC must indicate whether it intends to decline Coinbase's request, provide reasons for its decision, or present a timeline for resolving the matter.
Paul Grewal, Coinbase's chief legal officer, emphasized the importance of establishing clear rules and regulations before taking enforcement actions. He stated on Twitter, "Rules of the road, from legislation or rulemaking or both, must come before enforcement actions. That is why we petitioned the SEC for rulemaking nearly a year ago in the first place."
Coinbase's rulemaking request holds significant importance as the SEC recently filed a lawsuit against the exchange, alleging that it operates an unregistered securities exchange. Grewal believes the SEC's decision to pursue litigation against Coinbase indicates their denial of the company's petition for rulemaking.
The court has further instructed the SEC to justify why it believes the case should not be continuously overseen by the court and why it should not provide Coinbase with regular updates on the progress of rulemaking, as requested by the exchange.
The outcome of this court order will shed light on the SEC's approach to rulemaking and its stance on Coinbase's petition. It carries broader implications for the digital assets sector, as regulatory clarity is vital for fostering innovation and ensuring compliance among market participants.
Apart from denying Coinbase's request for clarity, the SEC has intensified its enforcement actions against prominent cryptocurrency exchanges. The agency's lawsuit against Coinbase and its action against Binance, one of the largest global exchanges, demonstrate its increased scrutiny of the industry.
Despite regulatory challenges, the price of Bitcoin has rebounded after a temporary dip following the SEC's lawsuit against Binance. Bitcoin experienced volatility but demonstrated resilience, currently hovering at $26,690.56 with a 3.60% increase in the past 24 hours.
Bitcoin's ability to weather regulatory challenges, market fluctuations, and negative sentiment over the past decade highlights its resilience. However, market participants should remain vigilant about regulatory developments and compliance requirements, as regulatory actions can still have short-term effects on price and market sentiment.