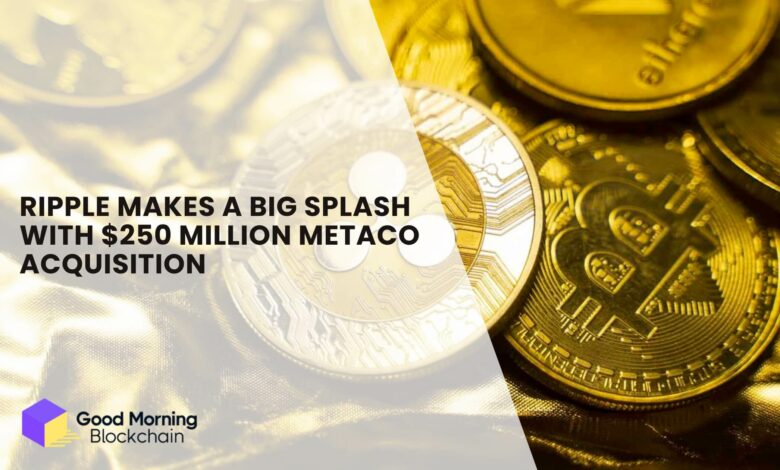 In a bold move, San Francisco-based crypto company Ripple has made a significant acquisition, snapping up Swiss custody firm Metaco in a deal worth a whopping $250 million. This strategic move marks Ripple's expansion into the realm of crypto custody services for institutional investors, showcasing its ambition to provide customers with tools to custody, issue, and settle tokenized assets.
The acquisition was financed through a combination of cash and Ripple equity, making Ripple the sole shareholder of Metaco while allowing the firm to operate as an independent brand. Adrien Treccani, the founder and CEO of Metaco, will continue to lead the business, ensuring a seamless transition.
Brad Garlinghouse, Ripple's CEO, expressed his enthusiasm for the acquisition, highlighting Metaco's strong reputation in institutional digital asset custody and its exceptional customer track record. The addition of Metaco to Ripple's portfolio is seen as a monumental step toward expanding its product suite and global presence.
Metaco, founded in Switzerland in 2015, serves a diverse range of clients, including global custodians, large banks, financial institutions, and corporates. Its flagship product, Harmonize, offers comprehensive solutions for custody, trading, tokenization, staking, and smart contract management across the DeFi ecosystem.
With Metaco already operating in multiple markets worldwide, including Switzerland, Germany, the United States, and Singapore, Ripple's extensive customer base across more than 55 countries and its payment services available in over 70 markets will further enhance the combined entity's global reach.
This acquisition comes at a time when Ripple continues to navigate a legal battle with the U.S. Securities and Exchange Commission (SEC), which accused the company of raising $1.3 billion through the sale of XRP. Despite the ongoing dispute, Ripple's CEO Brad Garlinghouse had previously indicated the company's strong financial position and potential for mergers and acquisitions, signaling Ripple's intentions to pursue strategic opportunities.
Monica Long, Ripple's president, emphasized the company's unique position to address the growing institutional crypto custody market, which is projected to reach nearly $10 trillion by 2030. With the Metaco acquisition, Ripple aims to capitalize on this market growth and solidify its position as a leading player in the crypto industry.
As the legal proceedings with the SEC unfold, Ripple's acquisition of Metaco showcases its commitment to innovation and its determination to shape the future of digital asset custody services for institutional investors. With a focus on expanding its product offerings and leveraging its global presence, Ripple is poised to make waves in the evolving crypto landscape.