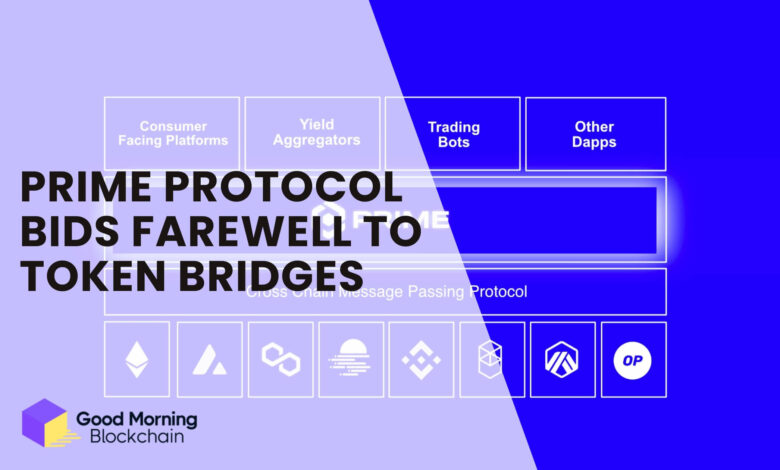 Prime Protocol Launches Cross-Chain Prime Brokerage on Moonbeam, Ethereum, Arbitrum, and Avalanche
Prime Protocol, a new cross-chain prime brokerage, has launched on Moonbeam, Ethereum, Arbitrum, and Avalanche. The platform aims to eliminate the need for token bridges, swaps, or wrapped assets, allowing users to cross-margin their entire portfolio and borrow against all of their on-chain assets through one protocol.
Token Bridges and Swaps Made Obsolete with Prime Protocol
The protocol uses Axelar's General Message Passing for interchain communication, which allows users to get instant liquidity on chain, regardless of where collateral has been locked up. This is a significant development, as existing blockchains operate as separate islands, resulting in capital inefficiencies for investors who have on-chain portfolios spread across multiple blockchains, L1s, and L2s.
Prime Protocol founder Colton Conley noted that the crypto ecosystem is currently fragmented, which can be a barrier to mass adoption, especially for end-users who do not want to worry about which underlying chain they are using. He believes that there is a need to provide infrastructure for users to have a seamless experience.
By allowing users to cross-margin their entire portfolio and borrow against all of their on-chain assets through one protocol, Prime Protocol aims to resolve this issue. Any time a deposit is made, Axelar will send a message and record that deposit on Moonbeam. When a user wants to withdraw or borrow, they can request that with any chain supported by Prime protocol. Axelar then facilitates the message and distributes the tokens to the user's chain of choice.
Initial Tokens Supported on Different Blockchains
The tokens available at launch on each blockchain include:
Ethereum assets: ETH, USDC, USDC
GLMR assets: GLMR, USDC, DOT, USDT
Avalanche assets: ETH.e, USDC, USDT
Arbitrum assets: USDC, ETH
While Prime Protocol will only make a handful of tokens available on each chain at the initial launch, Conley stated that there are plans to include a large variety of collateral in the future. He also expressed interest in collaborating with other protocols that are aggregating liquidity or working in the same space.
Increasing Need for Interoperability in the Blockchain Space
The launch of Prime Protocol reflects the growing demand for cross-chain solutions in the crypto industry. As more blockchain platforms emerge, it becomes increasingly difficult for users to move assets between them. Cross-chain solutions enable users to access liquidity and services from multiple blockchains without the need for multiple wallets or token swaps.
In recent months, several cross-chain platforms have launched or announced plans to launch. These include:
RenVM: A decentralized custodian that allows users to move tokens between blockchains
THORChain: A decentralized liquidity network that enables cross-chain asset trading
AnySwap: A decentralized cross-chain exchange that enables users to swap tokens between different blockchains
Bridge Oracle: A decentralized platform that enables the integration of real-world data into smart contracts across multiple blockchains
As the crypto industry continues to evolve and new blockchains emerge, cross-chain solutions will become increasingly important for users looking to access liquidity and services from multiple platforms. Prime Protocol's launch is a significant step in this direction, and its success will depend on its ability to attract users and provide a seamless cross-chain experience.