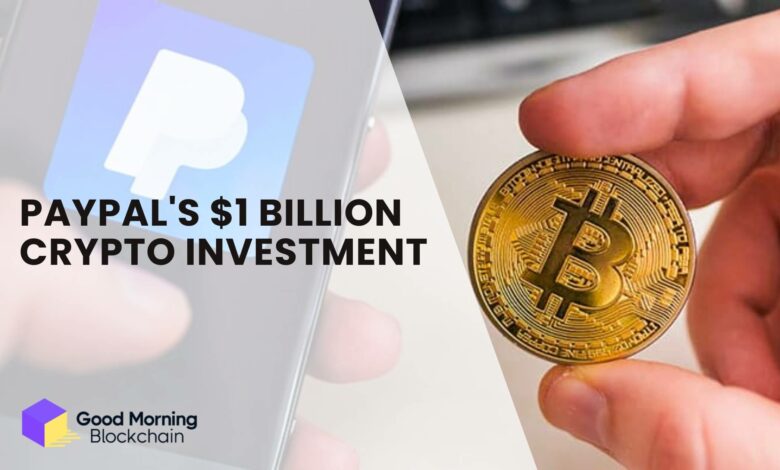 PayPal has announced its Q1 2023 earnings, which revealed that it holds almost $1 billion in cryptocurrency. According to the documents filed with the US Securities and Exchange Commission (SEC), PayPal's crypto assets now stand at $1 billion, which is up by 30% compared to its Q4 2022 holdings.
PayPal's crypto assets include Bitcoin (BTC), Ethereum (ETH), Bitcoin Cash (BCH), and Litecoin (LTC). Among these digital currencies, Bitcoin makes up the largest portion of PayPal's crypto holdings with $499 million, followed by Ethereum with $362 million, while Bitcoin Cash and Litecoin collectively make up $82 million.
PayPal's Crypto Boost Hurts Stock Value
While PayPal's crypto holdings have shown remarkable growth, it has come at a time when the company's business is threatened by high interest rates. According to the Q1 2023 report, PayPal's operating margin expansion forecast has been slashed from 125 to 100 basis points.
The announcement sent shares sliding 5% in late trading, with investors suspecting that the firm's checkout button is losing market share to Apple.
PayPal Enables Crypto Transactions for Customers
PayPal has been offering its customers the ability to buy, hold, sell, receive, and send cryptocurrencies since 2020. With its platform, PayPal customers can use the sale proceeds of crypto assets at checkout. The company entrusts the custody and safekeeping of crypto assets to third-party trusts, which include Coinbase Custody and Gemini.
PayPal's acquisition, Venmo, also allows customers to send Bitcoin, Ethereum, Litecoin, and Bitcoin Cash to other users and external wallets. Venmo users can also send crypto to PayPal wallets, and all transactions are irreversible.
Payment Providers Boosting Crypto Adoption
Trusted payment providers have been instrumental in driving cryptocurrency adoption beyond the crypto faithful. For instance, US-based MetaMask wallet holders can buy crypto using PayPal and help onboard users onto Web3. Meanwhile, PayPal debit card customers can purchase crypto on Coinbase, while PayPal competitor Stripe allows crypto companies to buy crypto with fiat.
Stripe has an in-game widget that enables gamers to fund their wallets. Mastercard and Visa are also active in the crypto space, with Mastercard launching infrastructure and standards to certify transactions between customers and businesses using blockchain networks. Visa, on the other hand, partnered with Circle to offer USDC transactions on certain credit cards and has also announced a new project to drive mass stablecoin adoption on public blockchains.
And that's a wrap, folks!
PayPal's $1 billion crypto holdings reflect the growing interest in digital currencies, and its remarkable growth is likely to continue as more investors and institutions get into the space. PayPal's success in the crypto market comes as the industry faces increasing scrutiny from regulators globally. As such, companies like PayPal must strike a balance between innovation and regulatory compliance to maintain their market position.
Trusted payment providers can drive crypto adoption beyond the crypto faithful, as PayPal, MetaMask, Stripe, Mastercard, and Visa have shown. As the crypto market continues to evolve, it is evident that traditional financial institutions and fintech companies will play an essential role in driving mass adoption of cryptocurrencies.