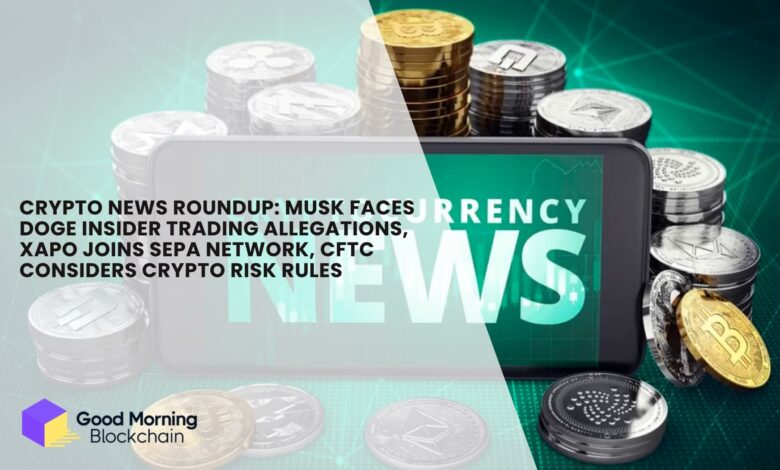 Legal News
Elon Musk Faces Insider Trading Lawsuit Over Dogecoin Manipulation
Elon Musk, the CEO of Tesla, is facing a proposed class action lawsuit from investors who claim that he engaged in insider trading by manipulating Dogecoin (DOGE). The investors allege that Musk used tactics such as Twitter posts, paid influencers, and his appearance on Saturday Night Live to profit at their expense. The lawsuit accuses Musk and Tesla of trading through Dogecoin wallets under their control. The case has been filed in a US federal court.
Digital Currency Group Seeks Consolidation of Crypto Winter Lawsuits
The Digital Currency Group (DCG) and its CEO Barry Silbert have requested the consolidation of two class-action lawsuits related to losses during the crypto winter. They argue that the cases share similar facts, legal issues, and class definitions. Consolidating the lawsuits would prevent conflicting decisions and promote judicial efficiency.
Banking news
Xapo Bank Enables Euro Payments with SEPA Integration
Licensed private bank Xapo has integrated with the single euro payments area (SEPA) network, allowing its members to seamlessly transfer funds in Euros (EUR). Through Xapo Bank's mobile app, users can send funds or settle invoices with individuals and businesses holding accounts in countries within the SEPA network. This includes EU countries, the European Economic Area (EEA) countries, Switzerland, Monaco, and the UK. All EUR deposits received by Xapo Bank are automatically converted to USD.
Silvergate Bank Agrees to Self-Liquidation Plan
Silvergate Bank, known for its crypto-friendly services, has agreed to file a self-liquidation plan with California financial regulators as per a US Federal Reserve (Fed) order. The order aims to facilitate the closure of the bank's operations while ensuring the preservation of cash assets to protect depositors. The bank must obtain written approval from supervisors for any use of cash assets, including executive compensation and severance payments.
Regulation news
CFTC Seeks Comments on Risk Management Program Changes
The US Commodity Futures Trading Commission (CFTC) has issued a proposal inviting comments on potential changes to its risk management program (RMP). The CFTC intends to use the feedback to inform future agency actions, such as rulemaking, regarding the RMP Regulations. Commissioner Christy Goldsmith Romero highlighted the need for regulatory oversight adjustments due to evolving technologies like digital assets, artificial intelligence, and cloud services, which present significant risks.
Central Bank of Nigeria Explains Cryptocurrency Ban
The Central Bank of Nigeria (CBN) clarified that its decision to ban cryptocurrency in 2021 was prompted by concerns related to the transparency of digital currencies and the interference of the private sector. The CBN cited the potential threat posed by the opacity of the cryptocurrency system to financial stability. Kinsley Obiora, the Deputy Governor of Economic Policy at the CBN, provided the explanation.
Security news
Twitter Account of OpenAI CTO Hacked for Cryptocurrency Scam
Mira Murati, the chief technology officer of OpenAI, had her Twitter account seemingly hacked to promote a "scam" cryptocurrency airdrop. The account shared a phishing link promising an airdrop of an ERC-20 token named OPENAI, referencing the firm that created ChatGPT. The tweet has since been removed, and caution has been advised within the crypto community.
DeFi news
Uniswap Community Rejects Proposal for Charging Fees to Liquidity Providers
In a closely contested vote, the Uniswap community has rejected a proposal to charge fees to liquidity providers on the protocol. Over 45% of the community voted against implementing fees, while other options with varying fee percentages received support ranging from 12.3% to 42.3%.