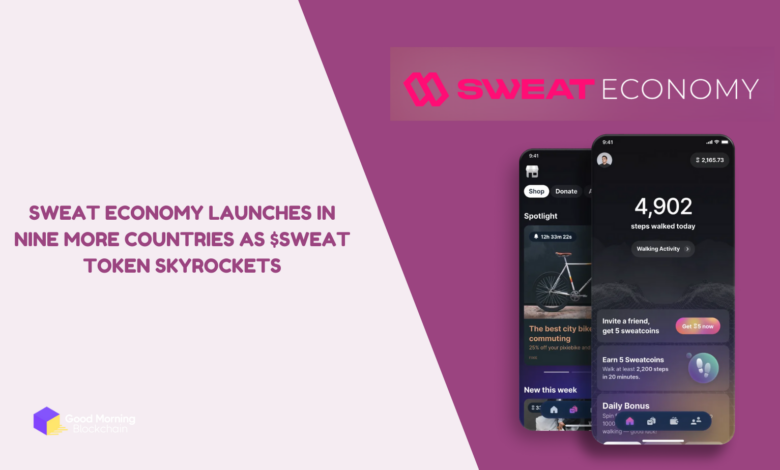 Sweat Economy has just announced its expansion to the United States and eight other countries, including the Bahamas, Barbados, Botswana, Ghana, Jamaica, Pakistan, Zimbabwe, and Uganda.
The move comes as the $SWEAT token, the native currency, has seen a significant increase in its price and market capitalization in the past month.
The Sweat Economy focuses on rewarding crypto rewards for physical activities, such as walking, running, or cycling. It's a way to monetize movement and reward people for staying active and keeping their health in check.
About Sweat Economy
It is the web3 initiative of Sweatcoin, a popular Move-to-Earn app that launched in 2015 and has amassed over 140 million registered users.
According to Yahoo Finance, Sweat Economy makes use of the NEAR Protocol, a high-speed, low-cost blockchain platform for its operations.
To earn, its users can also mint $SWEAT tokens by verifying their movement through the Sweatcoin app, and use them to access various features and benefits within the Sweat Economy ecosystem.
Some of these features and benefits include:
Growth Jars, which allow users to earn more $SWEAT by locking their tokens for a period of time;
Rewards, which offer users the opportunity to redeem their $SWEAT for life-changing prizes such as Teslas, trips around the world, and more.
Sweat Hero, a free NFT game where users can compete with each other to win $SWEAT.
Learn and Earn, an educational system that teaches users about Web 3 and rewards them with $SWEAT and other tokens.
The expansion of Sweat Economy to more countries is expected to boost the adoption and growth of the $SWEAT token and the web3 movement.
It signifies the further expansion of web3 products and services which are propelled in the development of the web3 ecosystem.