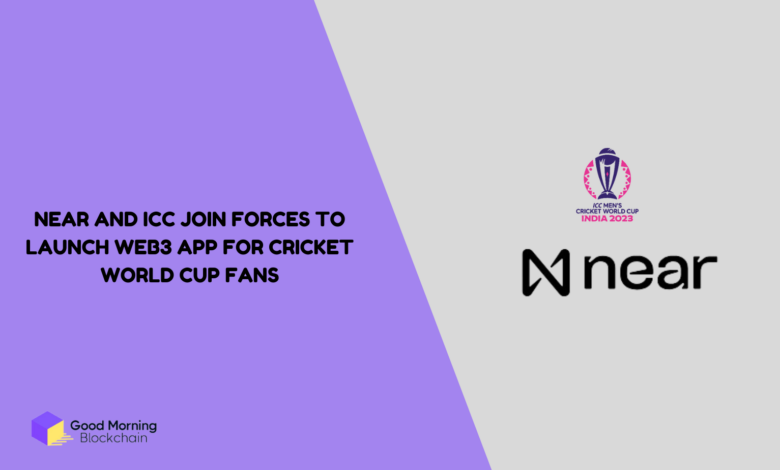 The International Cricket Council (ICC) and NEAR, a high-performance blockchain platform, have announced a partnership to launch a Web3 app for the upcoming ICC Men's Cricket World Cup 2023 in India.
The app will allow fans to interact with the tournament in new and exciting ways, such as creating and trading digital collectibles, participating in prediction markets, and accessing exclusive content and rewards.
The Web3 app will be powered by NEAR's technology, which enables fast, low-cost, and scalable transactions on the blockchain.
NEAR also supports interoperability with other blockchains, such as Ethereum, allowing users to access a wide range of decentralized applications (DApps) and assets.
The app will be available as an embedded blockchain experience on any browser, app, or connected device capable of running a few lines of Javascript.
The ICC Men's Cricket World Cup 2023 will be the 13th edition of the flagship event of the international cricket calendar which will feature 10 teams competing for the title at venues across India from October 5 to November 19.
The first match will be between England and New Zealand at Narendra Modi Stadium in Ahmedabad and the final will be held at MA Chidambaram Stadium in Chennai
The ICC and NEAR hope that the Web3 app will enhance the fan experience and engagement during the Cricket World Cup, as well as showcase the potential of blockchain technology for the sports industry.
The app will also provide opportunities for developers and creators to build innovative solutions and services for cricket fans around the world.
The partnership between the ICC and NEAR was announced at the ICC Annual Conference in Dubai on September 30.
Chief Executive Officer of the ICC, Geoff Allardice was quoted saying:
"We are delighted to partner with NEAR to bring the benefits of Web3 to our fans and stakeholders. We believe that this app will offer a unique and immersive way for fans to connect with the Cricket World Cup and enjoy the thrill of the game.
NEAR Co-founder Illia Polosukhin was also quoted saying:
"We are honored to work with the ICC to create a Web3 app for the Cricket World Cup. We are passionate about empowering people to create, share, and own their digital experiences on the open web. We are excited to see how cricket fans will use this app to interact with their favorite teams, players, and moments."
Big move for web3 there in Asia? We'll wait and see.