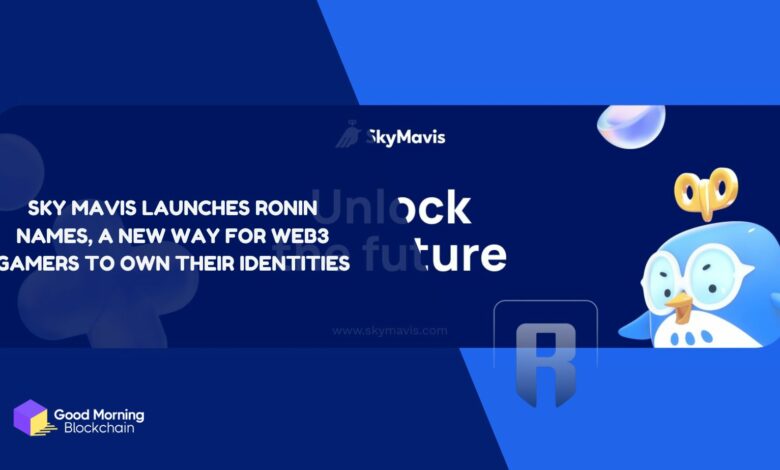 Sky Mavis, the web3 gaming company behind the popular game Axie Infinity, has announced a new feature that will allow gamers to create and own personalized gamertags on the Ronin blockchain.
The feature, dubbed Ronin Names, will allow users to register unique and memorable names that can be used across multiple games and platforms built on Ronin.
Sky Mavis says that the launch of Ronin Names is part of its vision to create a decentralized and open gaming ecosystem that empowers gamers and developers.
Ronin Names will be non-fungible tokens (NFTs) that represent the identity and reputation of the gamers which will be used for customization by the gamers.
Ronin is an Ethereum virtual machine (EVM) blockchain with trading volume of $4.2 billion. It's already a host to several web3 games, such as ZOIDS WILD ARENA, Pixels, CyberKongz, and of course, Axie Infinity.
Ronin Names will also be transferred, traded, and sold on the Ronin marketplace, creating a new economy for digital identities.
Starting from November, Ronin Names will be available for registration on the 16th at 8:00 AM UTC. The registration fee will be 0.1 RON, the native token of the Ronin network.
The first batch of Ronin Names will be limited to 10,000, and users can only register one name per wallet. More details and instructions on how to register Ronin Names will be released soon by Sky Mavis.
This move is expected to attract more gamers and developers to the Ronin network, as Sky Mavis now offers them a new way to express and monetize their online identities.
For now, there are expectations that Ronin Names will become a standard for web3 gaming and pave the way for more innovations and collaborations in the space.
About Sky Mavis
Sky Mavis is a technology company that creates decentralized applications and services based on blockchain.
It is popularly known as the developer of Axie Infinity, a popular game that features digital pets that can be battled, collected, and used to earn cryptocurrencies.
Founded in 2019 and based in Singapore, it is on guard to building a gaming ecosystem that empowers gamers and developers with true digital ownership and economic opportunities.