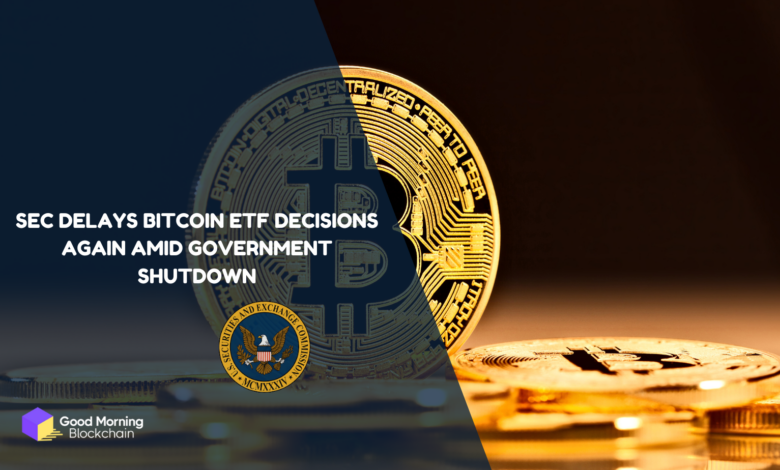 The U.S. Securities and Exchange Commission (SEC) has announced that it will postpone its decisions on four Bitcoin exchange-traded fund (ETF) applications, citing the impending government shutdown as a reason.
This is the second time that the SEC has delayed its rulings on these applications, which were filed by BlackRock, Bitwise, Invesco Galaxy Digital, and Valkyrie.
The SEC published four separate notices on its website on Friday, stating that it will extend the period for issuing an order approving or disapproving the proposed rule changes for each of the Bitcoin ETFs.
The new deadlines for the SEC's decisions will be between October 16 and 19, depending on the application.
See also: Binance vs. the SEC: Clash of Jurisdiction and Overreach
The SEC also explained that it needs more time to consider the proposals and the comments received from the public while also noting that it is operating under a continuing resolution that expires on September 30 and that a lapse in appropriations could affect its ability to review the applications.
A Bitcoin ETF is a type of investment product that tracks the price of Bitcoin and allows investors to buy and sell shares of the fund on a regulated exchange.
It would provide more access and liquidity to the cryptocurrency market, as well as lower fees and risks for investors.
However, the SEC has not approved any Bitcoin ETFs in the U.S. so far, citing concerns over market manipulation, fraud, custody, and investor protection.
The four Bitcoin ETF applications that are awaiting the SEC's decisions are among the most prominent and anticipated ones in the industry.
They are all based on the Bitcoin futures contracts offered by CME Group, rather than the spot price of Bitcoin.
This means that they would not hold actual Bitcoins, but rather contracts that bet on the future price of Bitcoin. This approach is expected to address some of the SEC's regulatory issues, such as custody and market manipulation.
However, some analysts and investors are skeptical that the SEC will approve any Bitcoin ETFs in the near future, given its history of rejections and delays.
Some also argue that Bitcoin futures-based ETFs are not as attractive or beneficial as Bitcoin spot-based ETFs, which would reflect the true value of Bitcoin.
The SEC's announcement of another delay has disappointed many in the web3 community, who have been eagerly waiting for a Bitcoin ETF approval in the U.S.
Some have also criticized the SEC for using the government shutdown as an excuse to avoid making a decision.
One Twitter user commented: "Now we're just armchair quarterbacking here. But we're pretty sure the SEC earned a flag on the field and a five-yard penalty for delay of game."