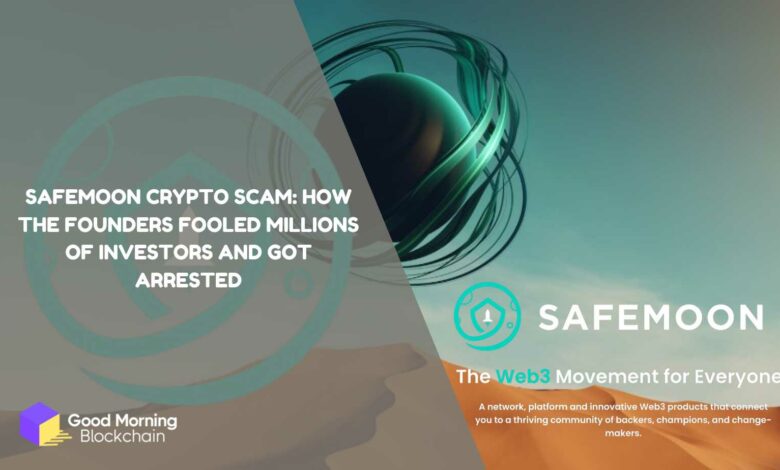 The U.S. government has arrested the founders and executives of SafeMoon, a cryptocurrency that promised to take investors "safely to the moon" but allegedly turned out to be a massive fraud scheme.
The Securities and Exchange Commission (SEC) and the Department of Justice (DOJ) announced the charges on November 1, 2023.
According to the SEC, SafeMoon LLC's creator Kyle Nagy, SafeMoon US LLC, and the companies' Chief Executive Officer, John Karony, and Chief Technology Officer, Thomas Smith, sold unregistered securities of the crypto asset SafeMoon and lied to investors about its features and performance.
The SEC alleges that the defendants misappropriated millions of dollars from the project's liquidity pool, which was supposed to be locked and inaccessible, and used them for personal expenses, such as luxury cars, real estate, and travel.
The SEC also accuses the defendants of manipulating the market by buying and selling SafeMoon to create artificial demand and inflate its price.
The DOJ (Department of Justice) unsealed an indictment charging Karony, Nagy, and Smith with conspiracy to commit securities fraud, conspiracy to commit wire fraud, and money laundering conspiracy.
The DOJ alleges that the defendants defrauded investors in SafeMoon by making false and misleading statements about its liquidity, security, and profitability.
There were also claims made that the defendants diverted and laundered millions of dollars of investor funds through various shell companies and cryptocurrency wallets.
About SafeMoon
SafeMoon was launched in March 2021 as a decentralized finance (DeFi) token that claimed to reward holders with a portion of each transaction fee and discourage selling by imposing a 10% penalty on sellers.
SafeMoon's website stated that its mission was to "bring tokenized freedom to the masses" and that its protocol was "community-driven" and "fair launched".
All these claims and more were largely accompanied by the slogan "Safely to the Moon".
SafeMoon's price soared by more than 55,000 percent at a certain period of time reaching a market capitalization of over $5.7 billion.
However, its price plummeted by nearly 50 percent when the public learned that SafeMoon's liquidity pool was not locked as claimed.
After this crash, the defendants allegedly used misappropriated funds to prop up the price and create fake trading activity.
The SEC is seeking permanent injunctions, disgorgement plus interest, penalties, and bars against the defendants.
The DOJ is also seeking forfeiture of the defendant's assets and a long-term imprisonment of 10-20 years
The SEC's press release can be found here. The DOJ's press release can be found here.