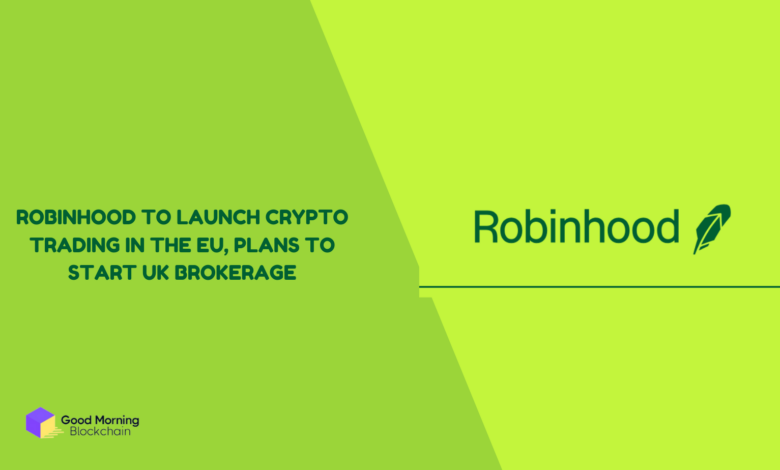 Robinhood, the popular online stock brokerage, has announced its plans to launch crypto trading in the European Union and a brokerage in the United Kingdom in the coming weeks.
The company revealed its expansion plans in its third-quarter earnings statement on Tuesday, saying that it has an experienced team in place to execute its global strategy.
Robinhood, which is known for its commission-free trading and its role in the meme stock craze of early 2021, currently offers crypto trading only in the U.S.
The company allows its users to trade 15 different cryptocurrencies, including Bitcoin, Ether, Dogecoin, and Avalanche.
Although it ended support for all tokens named as securities in the SEC lawsuits against crypto exchanges Binance and Coinbase, only Cardano (ADA), Polygon (MATIC), and Solana (SOL) were stopped.
See also: Binance Launches Binance Messenger
The expansion of crypto trading into Europe comes as Robinhood reported a decline in revenue from crypto trading in the third quarter of 2023.
Robinhood's earlier crypto-related revenue fell 55% year-over-year and 26% quarter-over-quarter, from $51 million in Q3 2022 and $31 million in Q2 2023 to $23 million in Q3 2023. The drop was attributed to lower trading volumes and prices of cryptocurrencies in the quarter.
It also reported a net loss of $85 million, or 9 cents per share, for the third quarter of 2023, missing analysts' estimates of 2 cents per share.
Despite the disappointing results, the company said that it remains focused on providing industry-leading products that serve more of its customers' financial needs, expanding internationally, and continuing to change the industry for the better.
About Robinhood
Robinhood is a commission-free stock trading and investing app that allows users to buy and sell stocks, options, ETFs, and cryptocurrencies.
The app also offers various products and services that help users manage their finances, such as Robinhood Wallet, Robinhood Cash Card, Robinhood Retirement, and more