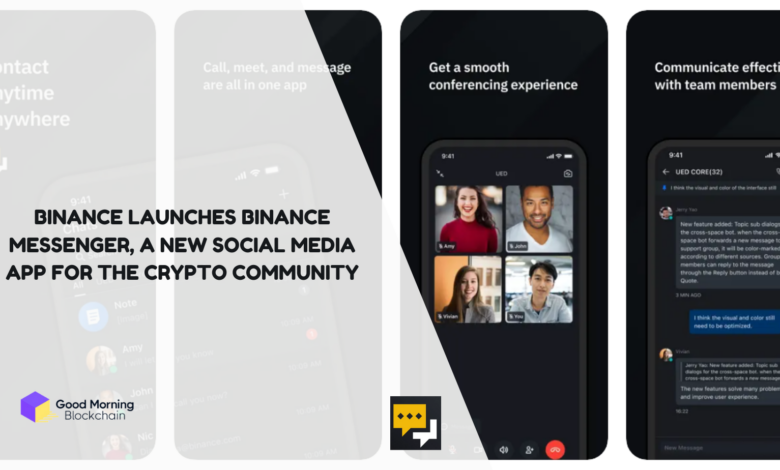 Binance, the world's leading cryptocurrency exchange, has launched a new social media app called Binance Messenger, which is now available on the Apple Store for iOS users
The app, powered by CyberConnect, also integrates with various platforms and services that are part of the Binance ecosystem, such as Binance Smart Chain, Binance NFT, Binance Academy, and more.
CZ said the app would mainly be used for internal communications and is unrelated to what Binance will announce at its Blockchain Week starting Wednesday.
Binance Messenger is currently only available for iOS users, but the exchange plans to make it available on the Google Play Store for Android users in the future.
The app is invite-only, which means that users need an invitation code to sign up. The invitation code can be obtained from other users who already have the app, or from Binance's official channels.
Binance Messenger is part of Binance's vision to create a vibrant and engaging digital ecosystem for the crypto community.
The exchange is also hosting its Blockchain Week, a flagship event that focuses on the future of Web3 technologies, from November 8 to November 9 in Istanbul, Turkey.
The event will feature keynote speakers, panel discussions, workshops, and networking sessions, covering topics such as NFTs, DeFi, DAOs, Metaverse, and more.
The launch of Binance Messenger, a new social media app powered by CyberConnect, had a positive impact on the price and demand of the CYBER token.
The launch of Binance Messenger increased the exposure and adoption of CyberConnect and its CYBER token, as more users joined the app and interacted with the CyberConnect ecosystem.
The price of the altcoin was trading around $6.16 according to Coinmarketcap before the app was deployed on the Apple App store.
Afterward, it saw an increase of 12.76% as more users got on the bandwagon to interact with the new application.
Official links: