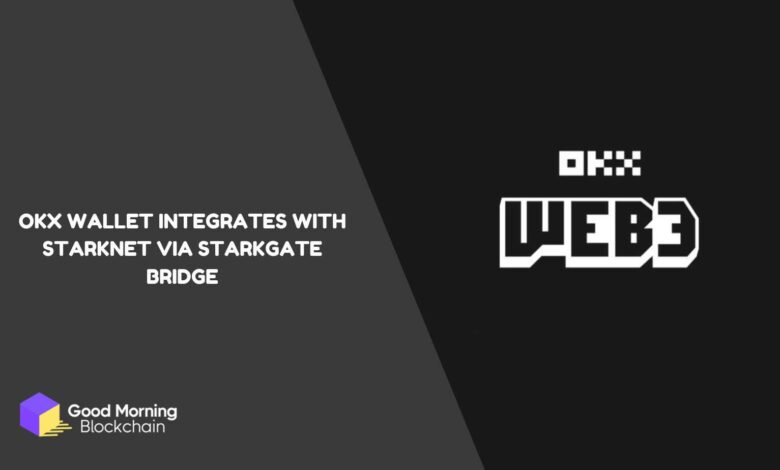 OKX Wallet, a leading crypto wallet and web3 portal has announced its integration with StarkGate, the official bridge between Ethereum and StarkNet.
The integration allows transfers of ETH and ERC-20 tokens to be done easily between the two networks, maximizing the benefits of scalability, security, and low fees offered by StarkNet, a permissionless decentralized validity-rollup that operates as an L2 network over Ethereum.
StarkNet makes use of STARK-based computational compression capabilities to process thousands of transactions per second, while maintaining the security guarantees of Ethereum.
And, by using StarkGate, all users on the platform can access the growing ecosystem of StarkNet-enabled DApps, such as DeFi, NFT, and gaming platforms, without having to worry about high gas costs or network congestion.
OKX Wallet is a multi-chain wallet that currently supports both EVM and non-EVM networks, making it easier for users to access DApps on different networks without having to switch wallets.
OKX Wallet also provides a user-friendly interface to swap crypto at the best prices across 10+ networks, 100+ DEXs, and 3 cross-chain bridges, as well as to earn yield and build their portfolio with various DeFi offerings.
Moreover, OKX Wallet hosts a one-stop NFT aggregator platform, where users can create and trade their favorite NFTs across 11+ networks for free.
See also: OKX Wallet Extension Integrates Levana Protocol
To use StarkGate, you need to have OKX Wallet installed on your browser or mobile device and connect it to your Ethereum wallet, such as Metamask.
Then, you can go to the StarkGate website, and choose the token and the amount you want to transfer from Ethereum to StarkNet, or vice versa.
The transfer process may take a few minutes, depending on the network conditions and the number of confirmations required.
Once the transfer is completed, users can see their balance updated on both networks and start using their tokens on StarkNet DApps.
OKX Wallet's integration with StarkGate is another step towards its vision of bringing web3 to the masses and empowering users with the freedom and flexibility to interact with the decentralized world.