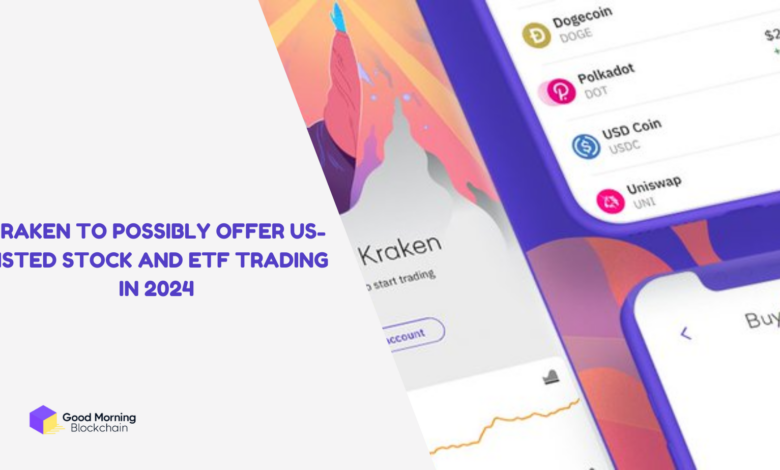 Kraken, one of the largest and oldest cryptocurrency exchanges in the world, has announced its plans to offer trading in US-listed stocks and exchange-traded funds (ETFs) in 2024, marking its first venture outside the crypto space.
According to Bloomberg, Kraken has already obtained the required regulatory permits in the UK and has applied for a broker-dealer license in the US with the Financial Industry Regulatory Authority (FINRA)
The company will set up a new division called Kraken Securities to provide the new service, which will initially be available in the US and UK.
Kraken's move into equities comes as the crypto industry is eagerly awaiting the approval of the first Bitcoin ETF by the US Securities and Exchange Commission (SEC), which could boost the adoption and legitimacy of cryptocurrencies.
However, the SEC has recently delayed its decision on two Bitcoin futures ETFs until November, citing concerns about market manipulation and investor protection.
Despite the report from Bloomberg, Kraken has yet to officially confirm the expansion.
"While we can't comment on rumors or speculation, we're looking to broaden and enhance our offering so clients continue to have secure and seamless access to Kraken's full product suite"
He also says that Kraken is not competing with other crypto exchanges that offer stock trading, such as FTX.US and Binance, but rather with traditional brokers like Robinhood and E*Trade.
If granted, Kraken's stock trading service will allow its eligible customers to activate the feature and see their portfolio of crypto, stocks, and ETFs presented as a single balance.
The service will also enable customers to trade stocks and ETFs using various cryptocurrencies, such as Bitcoin, Ethereum, and USDC
In addition to its stock trading service, Kraken is also developing its prime brokerage services and launching a qualified custodian for institutional clients in the coming weeks.
The custody service will be run separately from the exchange and Kraken has applied for approval with the state of Wyoming
Kraken is one of the oldest names in crypto, founded in 2011. It currently accounts for 3.5% of the global spot trading market share and has over 7 million customers.
It offers trading in over 70 cryptocurrencies and supports various fiat currencies, such as USD, EUR, GBP, CAD, JPY, and AUD.
Kraken's expansion into equities is a bold and ambitious move that could attract more customers and investors to its platform.
It could also challenge the dominance and monopoly of web2 platforms by offering alternative and superior solutions that are more secure, transparent, fair, and efficient.
However, it also comes with risks and costs, such as regulatory uncertainty, technical complexity, market volatility, and customer education.
As such, Kraken will have to navigate these challenges carefully and strategically to succeed in its new venture.