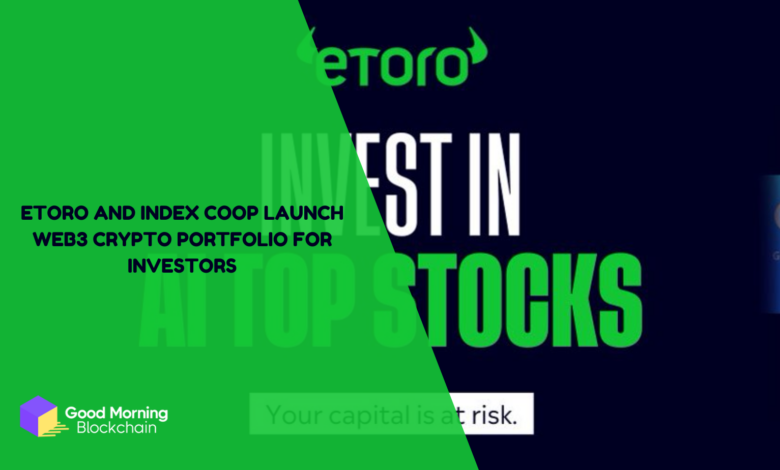 In a press release earlier this morning, Etoro publicly announced their partnership with Index Coop, a decentralized autonomous organization (DAO), to launch a new crypto Smart Portfolio ("Portfolio") that will offer exposure to Web3.
The partnership aims to provide investors with another way to invest in the Web3 revolution, which is a rapidly growing ecosystem set to reach a market size of USD 81.5 billion by 2030.
The portfolio – 'Index-Coop' – will cover four key sectors: Bitcoin, Ethereum, decentralized finance (DeFi), and the Metaverse.
The portfolio is comprised of bitcoin (30%), ether (30%), and a basket of assets mirroring the allocation of two of Index Coop's indices, the DeFi Pulse Index (30%) and the Metaverse Index (10%).
All these and more were meticulously detailed in the press release dated 18 October 2023.
eToro places itself as one of the leading trading and investing platforms, with over 23 million registered users worldwide.
It offers access to over 2,000 financial instruments, including stocks, commodities, currencies, ETFs, and cryptoassets. eToro also offers its customers an avenue to copy the trades of top-performing investors through its CopyTrader feature.
Index Coop is one of the longest-standing providers of on-chain structured products, a new DeFi sector that includes yield products, indices, derivatives, DIY portfolios, and automated proprietary strategies built on the Ethereum blockchain.
Backed by Sequoia Capital, Index Coop is dedicated to advancing the world of Web3 and DeFi by providing its users with more features related to web3 technologies.
Jordan Tonani, Head of Institutions at Index Coop comments: "At Index Coop, we are dedicated to advancing the world of Web3 and decentralized finance. We believe that DeFi is the future, and it's up to us to make sure it includes everyone. Partnering with eToro, we look forward to delivering valuable insights and crypto strategies to its users, contributing to the growth and adoption of Web3 technologies.
eToro is accessible in over 140 countries worldwide. Notable regions include Europe, Asia, Africa, and Oceania.
However, the portfolio won't be accessible to US users due to the regulations set on ground.