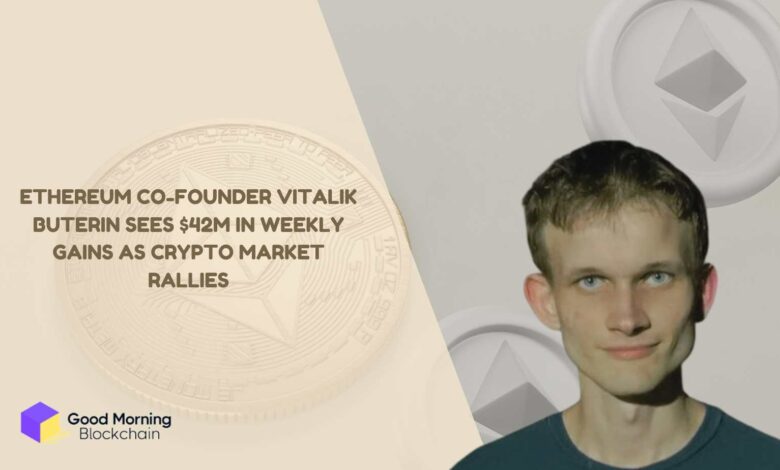 According to a news report, Vitalik Buterin, the co-founder of Ethereum, has seen his net worth increase by $42 million in the past week.
The report revealed that the value of the crypto portfolio held in Buterin's publicly-known addresses rose by over 14% from $396 million on October 17 to $453 million on October 24.
The gain coincides with a significant increase in the price of Ethereum (ETH), which makes up the vast majority of Buterin's holdings.
ETH is currently trading at $1,835, up 9.4% compared to just a week ago. The cryptocurrency has been on a steady upswing in recent weeks, reaching its highest level since May.
ETH has gained over 300% since the beginning of the year, outperforming Bitcoin (BTC), which has risen by about 100%.
Buterin was an early contributor to the Ethereum project as he holds nearly 247,000 ETH spread across various publicly-known wallet addresses.
He received a significant share of ETH as Ethereum's co-founder in the project's early days.
The 29-year-old crypto billionaire is known for periodically donating to charity.
Very recently, he dispelled rumors that he sold some of his holdings, claiming that instead, he was donating more money to charity.
In May, Vitalik Buterin, the co-founder of Ethereum, donated $600,000 worth of Ether and Maker tokens to GiveDirectly Israel, a nonprofit organization that provides cash transfers to low-income households.
Buterin also discussed Ethereum's future and innovative projects in an AMA (Ask Me Anything) session on X (formerly Twitter) this month.
He answered questions from the community about Ethereum 2.0, layer 2 scaling solutions, proof-of-stake consensus mechanism, and more.
He also expressed his interest in collaborating with other players in the web3 space, such as Polkadot, Cosmos, and Avalanche.
The crypto market as a whole has been experiencing a strong rally in October, driven by positive news and sentiment.
The total market capitalization of all cryptocurrencies has reached $1.3 trillion, indicating a rise from a month ago.
While Bitcoin, the largest cryptocurrency by market cap, has also hit new highs, surpassing $6,000 for the first time since April.