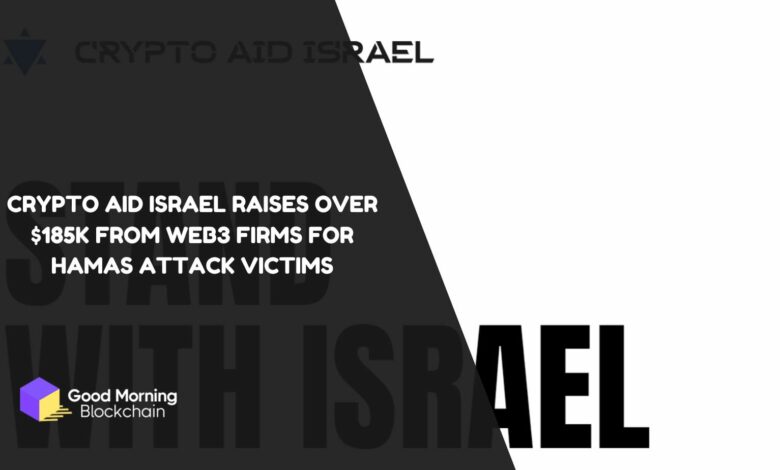 Crypto Aid Israel, a group of prominent Israelis in the crypto community, has raised over $185,000 USD (about 700,000 NIS) to help Israelis who have been affected by the recent wave of Hamas attacks.
The group, which was formed in May 2023, has received donations from over 30 web3 firms, including accounting giant KPMG, crypto wallet provider Zengo, and Fuse.
From these donations, the group has also distributed funds to several NGOs that are providing essential services and goods to the impacted regions.
Crypto Aid Israel was founded with a mission to leverage the power and solidarity of the Web3 and crypto community to support Israel in times of crisis
The group is by Tim Freed, a senior leader at Zengo, and Eyal Gura, a crypto and new digital initiatives advisor to Latet's board.
The group accepts donations in various cryptocurrencies, such as Bitcoin, Ethereum, USDC, and BZT. The group also uses blockchain technology to ensure transparency and accountability of the funds.
Since it was founded, the group has already completed two rounds of aid distribution to four NGOs that are working on the front lines of the relief efforts.
These NGOs are:
Foundation for Advancing Citizens of Eshkol Regional Council: an organization that supports the well-being and resilience of Israel's southern communities, particularly in times of conflict, by providing essential services and products.
Zaka: an Israeli volunteer-based NGO specializing in search and rescue, disaster response, and emergency medical services, often working in the aftermath of major incidents and emergencies.
Lev Echad by Or Hanegev veHagalil: an NGO committed to supporting at-risk youth and promoting social inclusion in Israel through various educational and empowerment programs.
Latet: an Israeli nonprofit organization dedicated to combating poverty and providing humanitarian aid to disadvantaged communities, with a focus on food security and social assistance.
Crypto Aid Israel is not the only crypto initiative that has shown solidarity with Israel during the crisis. In May 2023
Vitalik Buterin, the co-founder of Ethereum, donated $600,000 worth of Ether and Maker tokens to GiveDirectly Israel, a nonprofit organization that provides cash transfers to low-income households.
Source: Coindesk
See also: Crypto Aid Israel Launched By Israeli Local Leaders