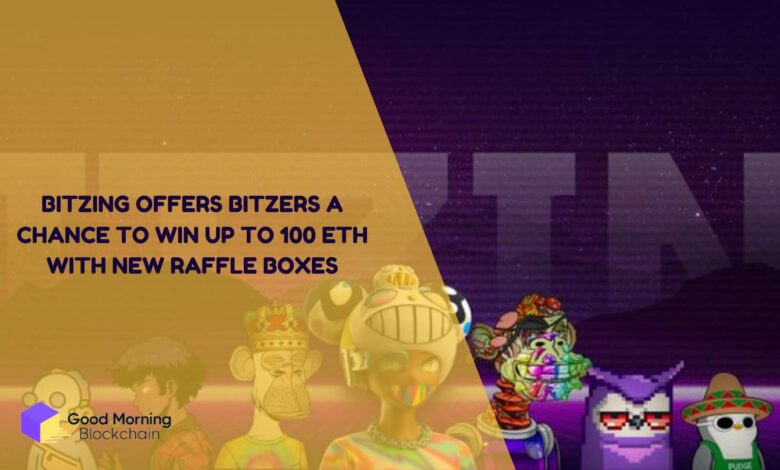 Bitzing, one of the largest web3 entertainment platforms, has just announced the launch of four new ETH boxes for their users to acquire high-value NFTs and crypto for a percentage of their full price.
The platform, which is known for its zero gas fees and unique features such as Raffle Box and Treasure Draw, aims to make crypto more accessible and rewarding for its users, colloquially known as Bitzers.
According to a publication, the four new ETH Raffle boxes are; The Mini ETH Box, The Big ETH Box, The Mega ETH Box, and the Super ETH Box.
Each of the boxes contains a random amount of ETH, ranging from the prices of 0.01 ETH to 100 ETH.
Also, the entry fees for draws vary from 0.0015 ETH to 0.50 ETH, catering to a broad demographic of users.
To celebrate the launch of the new boxes, Bitzing is offering an enticing incentive program for Bitzers.
For a limited time, bitzers who buy $20 of BZT on the platform will receive an extra $5 of BZT.
There are also chances to unlock up to 10 boxes with a 33% discount on deposits. This incentive program is simply designed to encourage users to participate in the web3 funfair and explore the potential and opportunities of crypto.
Bitzing's latest initiative is not only entertaining but also strategic. The platform is tapping into the growing popularity and demand of ETH, the native token of Ethereum, the world's most widely used blockchain for decentralized applications.
ETH has been on a bullish trend in recent months, reaching an all-time high of over $4,000 USD in October 2023.
So, by offering customers a chance to win ETH, Bitzing is making crypto more attractive and accessible for both newcomers and veterans.
Bitzing's success stories are not uncommon. The platform has frequently been spotlighted for its remarkable achievements, such as securing the illustrious Bored Ape Yacht Club (BAYC) and AZUKI.
Recently, a Bitzer made headlines by winning a staggering 100 ETH from a Super ETH Box, just a few hours after the launch of the new boxes.
To purchase any of the boxes, visit any secondary exchanges, such as Uniswap, or visit their website to read the full details.