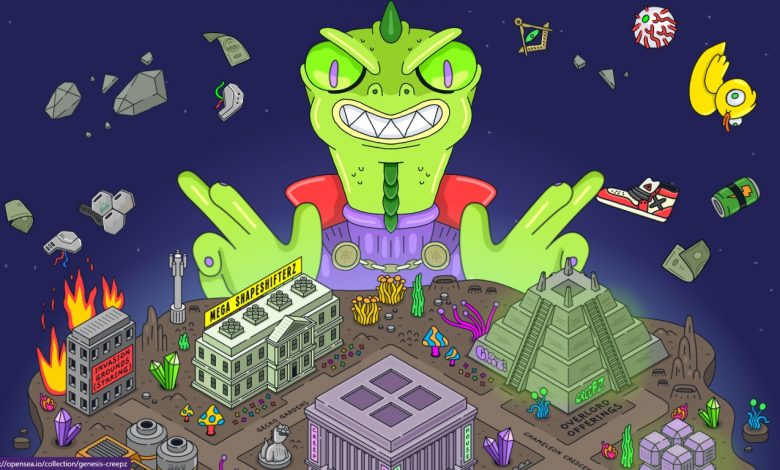 So you're fond of lizard aliens and conspiracy theories while looking for a cool NFT collection, Creepz Genesis NFT ticks all boxes and is one to watch to bring life to all your nerdy alien conspiracy dreams. Its zany yet vibrant characters and artwork further adds to the charm of one of 2022's most promising NFT collections to hit blockchain news.
We have all you need to know if you're looking for further information regarding this exciting project. So stay tuned, keep on reading, and we'll guide you through the colorful yet crazy world of the Cold Blooded Creepz, and we'll give you our thoughts by the end of this article.
About Creepz Genesis NFT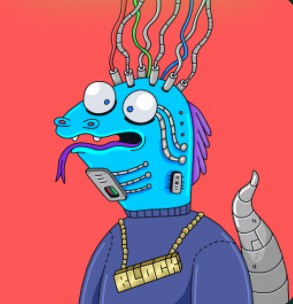 Creepz Genesis is the work of content creators, digital artists, and NFT enthusiasts called the Cold Blooded Creepz. With over four official NFT collection releases, Cold Blooded Creepz proves to be one of the most successful NFT launches in the past year.
It presents itself in a "lore" wherein an intelligent mutant lizard race led by the Overlord plans to invade the entire planet earth by building an army of lizard Creepz. To do so, one must earn many $loomi coins—the currency used in-game as part of its play-to-earn strategy. You can check its official Discord server or Twitter to find out more info for more details.
Creepz Genesis NFT Roadmap
Unlike other NFT collections with a chronological timeline stating a tentative month for a project or feature's release, the CBC team refers to them as "seasons" as part of its invasion activations. Here are the complete eight seasons in the NFT's roadmap.
Season 1 – The official Season I Invasion Games launch by the "Overlord."
Season 2 – Launch of gamification feature called "Cross-Creepz Breeding."
Season 3 – Cyber Creepz Launch at the iconic Times Square in New York City.
Season 4 – A possible launch of the franchise in space
"$1,000,000" – The CBC universal platform in the talks built by the membership club.
Creepz Genesis Utility?
As the genesis release for the entire Cold Blooded Creepz ecosystem, the Creepz Genesis NFT characters have 800+ traits. About 11,111 of these characters are circulated in the metaverse and allow you to earn 1,500 $loomi per day.
$Loomi coins are part of the CBC token structure, which players could use to their advantage to further their progress within the ecosystem. It can be used for future drops, upgrades, and promising character releases. These coins are precious should you want to survive in the ultra-competitive gameplay structure in this world.
Your token will also serve as your gateway to live and virtual experiences, such as parties and exclusive merch.
The Creators of Creepz Genesis
The CBC or Cold Blooded Creepz team comprises ten members. However, limited information could be found on the people behind the scenes as they assumed an alias to maintain anonymity. There are two founders on the board known as "Dom3xyz" and "Sharkbait," working on blockchain projects. Meanwhile, "Psychrome" is responsible for the design and aesthetics of the NFT collection.
"Augminted Labs," "Cryptojack," "Josh Ong," and "Vondoom.ETH" serve as the team's core advisors given their expertise and experience in crypto projects and NFTs in general. Powering the ecosystem is the engineering team led by "Vik." He also works directly with fellow engineers "Krishan" and "Wizard."
When to Mint Creepz Genesis NFT?
Unfortunately, the minting of Creepz Genesis NFT has finished. Secondary vendors, such as OpenSea, however, sell these tokens. Over 11,000 tokens have been sold with 4,609 actual owners. Should you decide to own one of these tokens, you must have a digital wallet and some Ethereum coins, as these are stored at the Ethereum blockchain.
Where to Buy Creepz Genesis?
You can buy the Genesis Creepz or the original NFT collection released by its creators at the largest marketplace for NFTs called OpenSea. Like other NFT projects such as 0N1 Force NFT auctioning and trading is quick and easy. As of this writing, Genesis Creepz NFT's floor price is at ETH3.15 or US$8,297.07.
gmBlockchain's Thoughts
With its well-thought origin story/background and its humorous artwork and aesthetic, "cool" is nothing but an understatement for this project. We're sure this will be well-supported by its community because of its strong following.
If you're interested to learn more about the Creepz Genesis NFT, follow our blog, and we'll give you all the latest NFT news you'll need for this Creepz.