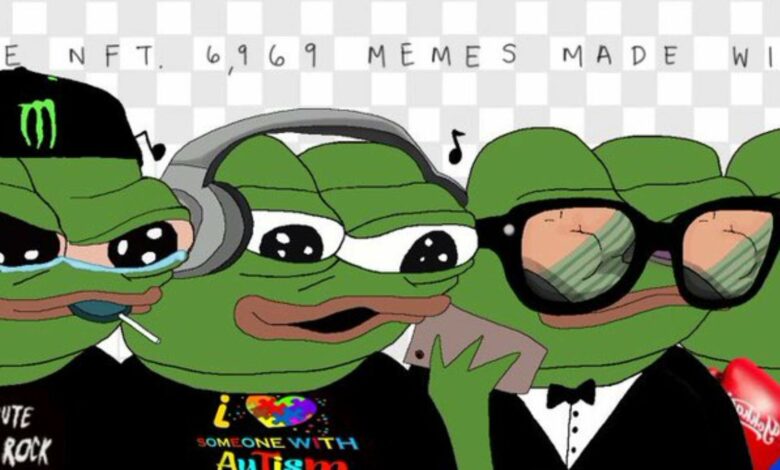 LO-FI PEPE NFT is more than just another addition to the NFT ecosystem; it is a digital phenomenon that blends the nostalgia of Pepe, the beloved internet meme, with web3 technologies.
This inventive project takes the essence of internet culture, embodied in the whimsical and expressive Pepe character, and elevates it to a whole new level.
If you love memes, and Pepe the Frog, then you will love LO-FI PEPE.
About LO-FI PEPE
LO-FI PEPE is a meme NFT project dedicated to $PEPE, the native token of the Pepe Network, a decentralized platform for creating and sharing memetic online art.
It is a collection of 6969 NFTs aimed at celebrating the culture and community of $PEPE holders and fans with digital collectibles that feature Pepe the Frog, a popular internet meme character, in various scenarios.
Each LO-FI PEPE NFT has its own rarity traits, such as background, outfit, accessory, and mood associated with it.
According to its official website, it is a meme project dedicated to $PEPE! Memecoins are crucial to crypto's cultural phenomena.
LO-FI PEPE Roadmap
The LOFI PEPE Roadmap was revealed on the official pepe website after the launch. Furthermore, it was revealed in another tweet by the official X account of the collection.
A full extensive review of the roadmap reveals the following:
Firstly, the team behind LOFI PEPE is committed to creating a fun and engaging community for all Pepe fans.
They are also working on building staking pools for Pepe Bulls, which will allow holders to earn rewards for holding the NFTs.
Finally, there are further plans to bring Pepe artists and meme-makers to Art Basel Miami, which is one of the world's largest art fairs.
LO-FI PEPE NFT Utility?
The LO-FI pepe creators have not made any official statements about the utility of their collection.
For now, it is unclear what the potential use cases of these NFTs are.
Some collectors believe that they could be used as profile pictures or in online communities, while others believe that they could have more practical applications, such as being used to access exclusive content or events.
Ultimately, the utility of the collection will depend on how they are used by the community.
The Creators of LO-FI PEPE NFT
The creators of LO-FI PEPE NFT are a group of anonymous meme artists and developers. They launched LO-FI PEPE NFT in May 2023, with the aim of celebrating the culture and community of $PEPE holders and fans.
They describe themselves as "$pepe bulls taking control of the meme market" and their vision is to "promote $pepe and support the memetic online art movement into the traditional art marketplace.
The creators have not revealed their identities or backgrounds, but they have shown their skills and creativity through their work.
Even without revealing their identities, they have proven that memes are not only fun and cool to own, but also have potential and impact in the crypto space.
When to Mint LO-FI PEPE NFT?
The minting price of an LO-FI PEPE NFT started at 0ETH and went up to 0.05 ETH per NFT within hours. With the minting limit set at 20 NFTs per transaction, many collectors eagerly jumped on the collection.
As of today, its floor price is set at 0.014 ETH, with a total of 6,969 NFTs minted and held by 1,521 unique owners.
Where to Buy LO-FI PEPE NFT?
LO-FI Pepes can be bought on secondary marketplaces such as Opensea, Rarible, Binance NFT Marketplace, OKX, and LooksRare.
To proceed, your wallet should be equipped with at least 0.014ETH which is the current floor price. Currently, it has a trading volume of 2,355ETH.
gmBlockchain's Thoughts
Although most collectors are very skeptical of this collection due to the degree of its anonymity, the collection still stands out as one of the best meme collections in the NFT market.
To find out more about the project, visit their official website to view their whitepaper or their community on Discord and X.