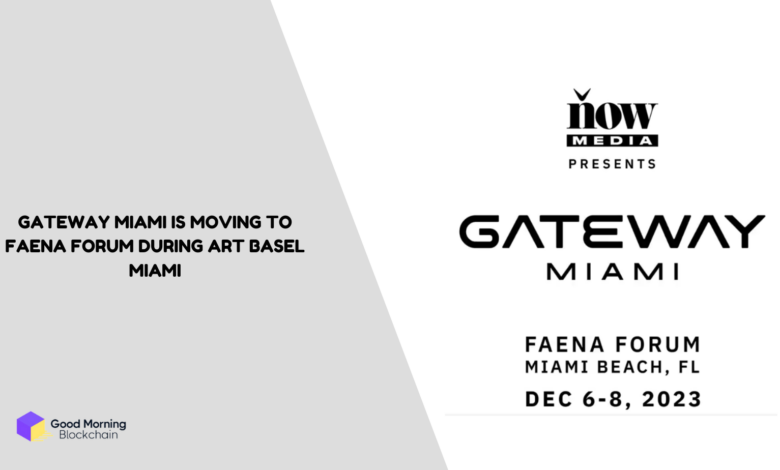 Art Basel Miami, an annual event, is gearing up to transform the city into a global hub of artistic expression.
This year, the excitement is amplified as the iconic Faena Forum plays host to "Gateway Miami," a remarkable addition to the already vibrant lineup of exhibitions and installations.
It follows the remarkable success of last year's five-day festival held during Miami Art Week, which overtook 12 buildings and two city blocks in downtown Miami.
The event attracted 12,000 visitors and featured partnerships with leading brands such as Christie's, Instagram (Meta), Porsche, FaZe Clan, RTFKT, Art Blocks, Alo Yoga, WME, MetaMask, 9dcc by gmoney, and many others.
Situated in the heart of South Beach's Faena District, the Faena Forum is a stunning architectural masterpiece crafted by Rem Koolhaas and the OMA team, under the leadership of Shohei Shigematsu.
Its design boasts two grand halls, a rose marble amphitheater, and convenient access to the major art fairs along the beach during this iconic week.
After two successful years of hosting Gateway in downtown Miami, the relocation to the Faena Forum signifies an evolution for the event series, while emphasizing the convergence of the digital and physical art worlds and the digital fashion and luxury category.
Gateway Miami is set to make its mark from December 6th to 8th at the prestigious Faena Forum, marking a historic first as it joins the festivities of Art Basel Miami on South Beach.
Gateway Miami is not merely an event; it signifies the evolving landscape of creative expression and the limitless opportunities to upcoming artists and content creators in the digital era.
The last event in Korea made history as the largest digital art experience in Korea, boasting the participation of over 75 artists and collaborations.
Gateway Korea, held in partnership with Factblock from September 6th to 8th, emerged as one of the marquee events during Korea Blockchain Week.
With over 4,500 attendees, featuring a star-studded opening party and two days of enlightening speaker sessions, it made its presence known in Asia.
Now, we're taking it to the other side of the world, Miami.
To stay informed about the most recent developments in the event, make it a habit to visit our blog frequently.