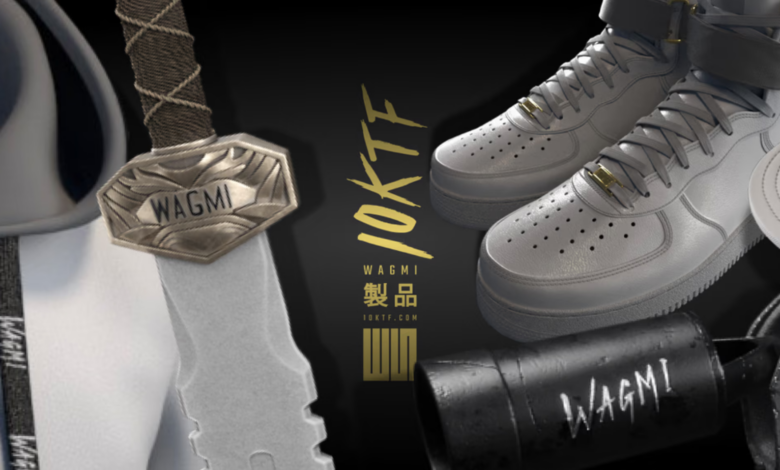 World renowned craftsman Wagmi-san, famous for the most grailed accessories, recently set up a shop in New Tokyo called 10KTF.
A man of honor, he only makes objects for customers who own 10KTF-supported PFPs. His accessories are 1 of 1 digital objects that will only be created once.
Life is good. But he's still required to pay for protection to keep his shop open. It's better than the alternative. After what happened Last Summer, he can't let that happen again.
Are you ready to participate in the thrilling story-driven missions of 10KTF, and earn $APE along the way?
Look no further than this collection. With a lot of eyes fixed on it, the team at gmBlockchain is set to uncover what makes this collection so popular.
About 10KTF Stockroom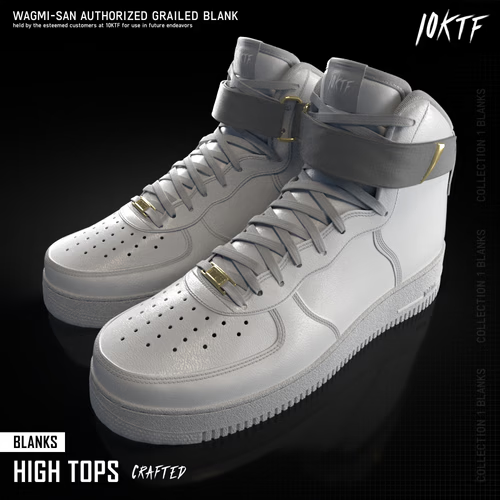 This is a collection of the finest Tools and Materials held by the esteemed customers of 10KTF for use in future endeavors.
It contains mainly tools, blanks, and level 1 materials. It also includes some limited-edition items for the customers to make use of.
In the 10KTF ecosystem, there are two main material collections, which are called the Stockroom and Combat Crates.
In the Stockroom collection, tools that are used to build and create new items are all stored here, while the Combat Crates contain Level 2 Combat gear for Battle.town Missions.
Once opened by an owner, the Blank Combat item will become part of the 10KTF Stockroom.
About 10KTF
10KTF utilizes a purpose-built ERC 721 compatible smart contract to enable users to craft derivative NFTs from their existing NFTs.
The smart contract ensures that only the current owner of the NFT is able to create the derivative NFT and that only one NFT is minted for each corresponding parent NFT.
10KTF is an NFT project that tells the story about Wagmi-San and his 10k True Frens (aka 10ktf).
Through "missions" you can earn points and experience the story with other community members.
For attending missions and being part of the community you can earn rewards such as BADGES, MATERIALS, free AIRDROPS and $APE-Coins.

10KTF Stockroom Roadmap
The 10KTF Stockroom collection is an utility based collection with no IRL rewards but according to the official website, the roadmap of 10KTF Stockroom includes the following milestones:
Launch of 10KTF Stockroom, a collection of Tools, Materials, and Blanks for crafting Level 1 and Level 2 items. Release of Recyclable Stockroom Crafting, and introduction of G Tag, a rare material that can be used to mint Genesis items.
Launch of 10KTF Combat Crates that reveal Level 2 Combat Blanks.
Release of Combat Crates Crafting and introduction of Battle.town, a PFP event platform where users can use their 10KTF gear to join missions and earn rewards.
Launch of 10KTF Gucci Grail, Gucci Grail Crafting, and Gucci Grail Events which are exclusive experiences for Gucci Grail holders.
Launch of 10KTF Kagami, a collection of 893 tokens with accompanying physical art pieces.

10KTF Stockroom NFT Utility?
The utility of 10KTF Stockroom NFTs is mainly related to the creation and enhancement of other 10KTF items.
Holders can use Tools, Materials, and Blanks from the Stockroom to craft Level 1 and Level 2 items that are associated with their 10KTF-supported PFPs.
These items can be used in Battle.town, where holders can be able to participate in missions and earn rewards such as Storypoint badges, Stockroom Materials, physicals, and ApeCoin.
Also, some Stockroom NFTs may have limited-edition or rare properties that make them more valuable or desirable.

The Creators of 10KTF Stockroom NFT
The creator of the 10KTF NFT project is WeNeW @wenewlabs, a company specializing in modern technologies. One of the co-founders of the platform is the legendary digital artist Mike Winkelmann, aka Beeple.
10KTF was founded by WeNew and is now owned by Yuga-Labs.
Other members include:
Michael Figge / Co-Founder: Co-founder and creative director of "Possible," which makes stage videos for famous singers, & CCO at Yuga Labs, the makers of BAYC. Guy Oseary and Tim Smith previous manager of Rock Bands like Linkin Park.

Where to Buy 10KTF Stockroom NFT?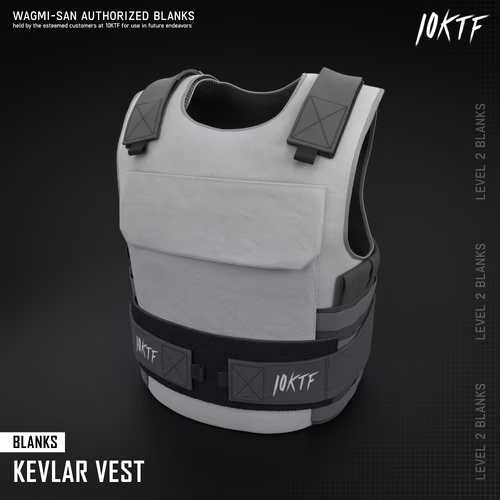 10KTF Stockroom NFTs can be bought on secondary marketplaces such as Opensea, Rarible and LooksRare.

All NFTs on the collection are currently listed for sale on various marketplaces and currently, it has a floor price of 0.0096ETH and a trading volume of 22,817ETH since it was minted.

gmBlockchain's Thoughts
First off, we are big fans of the 10KTF project and are excited to see what's next in its pipeline.
We also really appreciate the play-to-earn system and the access to exclusive events that 10KTF offers to its holders.