Have you gotten the chance to explore the NFT Worlds Metaverse? It's just one of the most exciting VR world experiences that reached the digital shores, with people heavily banking on its appeal and utility as an increasing number of crypto enthusiasts try to explore the potential of this digital real estate.
If this is your first rodeo and you haven't heard much about the term "metaverse" itself, a quick search on Google might complicate things as the search engine will give you varied results. The gmBlockchain team is here to simplify things so you can focus on the details that matter. Keep on reading to learn more about this very interesting project.
About NFT Worlds Metaverse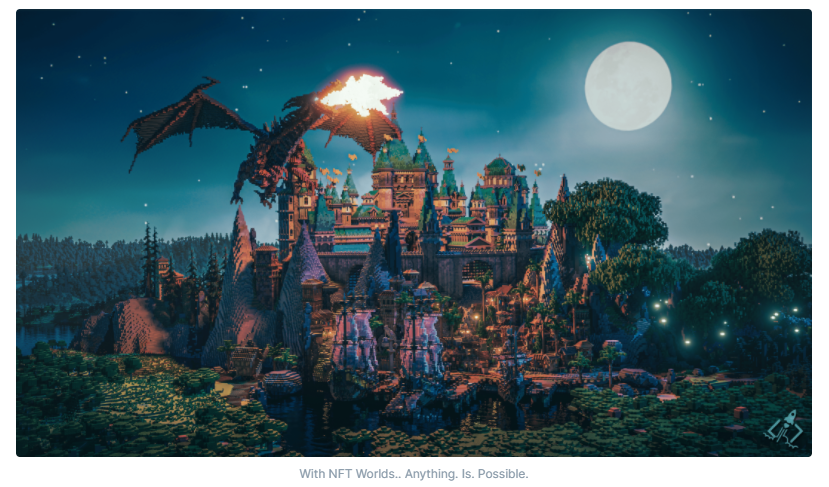 "NFT Worlds" is a metaverse that explores everything there is in the virtual space. Tech companies are now banking in this virtual space to provide a highly immersive experience to more and more people while incorporating cutting-edge blockchain and web3 technology.
At present, 10,000 unique realms feature a fully decentralized massive multiplayer metaverse, where players can build and create virtual spaces. By owning a piece of virtual real estate or virtual land, you may take part in the metaverse ecosystem featuring a one-of-a-kind 3D voxel world. It comprises two elements, namely its overall visual aesthetic and in-game system or structure.
You can find out more about this virtual world through their social media platforms, such as Facebook and Twitter.
NFT Worlds Design
According to the creators' official website, NFT World's design was based on Minecraft, one of the most popular games on the Internet. Since they didn't want to "reinvent the wheel" by crafting their own game from scratch, they focused on creating a metaverse that's already familiar while integrating augmented reality and NFT tech and a decentralized crypto market.
The open-source system of Minecraft allowed for this to happen especially for creators looking for open-source tools, mods, and more making limitless possibilities in this metaverse. It also allows for cross-platform support giving data access to many consoles, as well as full out-of-the-box support for custom games mechanics with modifiable art elements (avatars, backgrounds, and many more).
NFT Worlds Metaverse Marketplace
As the NFT Worlds is fully decentralized, you can explore every land and create limitless experiences through your avatars. This also includes the possibility of engaging in buy and sell transactions powered by the technologies within this game-like tech realm.
Through its NFT marketplaces, users may perform "staking" or "renting" within the web metaverse as you see fit to your vision of your digital world. When you stake a $WRLD token, you may own it and use the space for whatever purpose or interest such as fun and leisure, or eventually sell or rent it monthly for future passive income as you would in real life.
NFT Worlds Assets
As this is a cross-platform marketplace, digital art and lands represent ownership for its users. 10,000 unique NFT world spaces are powered by NFT technology/blockchain technology. It features a massive multiplayer ecosystem that follows the concept of the gaming world featuring unique gameplay mechanics, play-to-earn contests, and communal hangouts similar to what people imagined in mainstream real worlds.
NFT Worlds uses $WRLD as non-fungible tokens used as its utility token within the virtual world. The digital assets are valuable in the VR realm as you can make future NFT purchases on services and content. These also hold value as their main currency like actual money in the real world.
NFT Worlds Metaverse Community
The community supporting these virtual worlds allows for pure content creation and exploration of a fully virtual reality world. Its members also hold NFT assets and other digital items in the crypto world to use within this realm. There are available resources for the virtual realms that users may discover and interact with while staying in these game worlds.
Game Makers of NFT Worlds
The NFT Worlds team consists of two key people under the alias "IAmMarkDev" and "TempTranquil." The NFT metaverse was created and built on the philosophy of building an open platform featuring virtual lands or real estate that would allow for an open-source ecosystem. This allows for better engagement and social experiences within this digital world.
gmBlockchain's Thoughts
With a familiar gameplay system that comes as second nature to players, the Minecraft-like controls and structure that this metaverse employs will surely rake in more users to jump on board. We can't wait to see what content creators will do with what NFT Worlds Metaverse has to offer them.