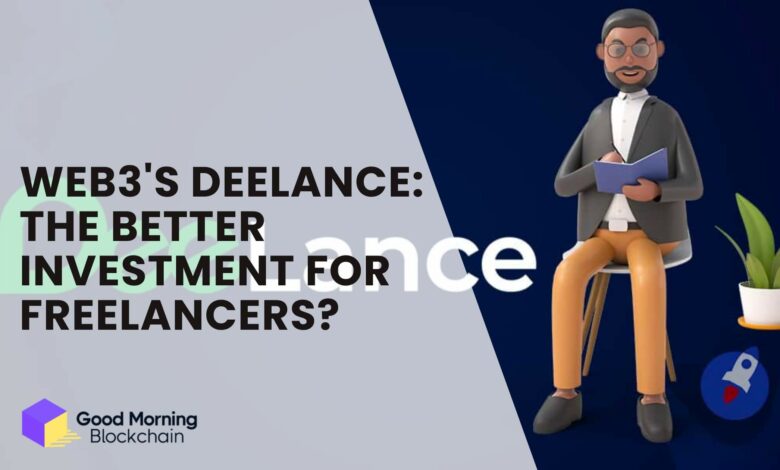 The rise of the gig economy has led to an increasing number of freelancers in the United States, with over 58 million freelancers contributing over $1.4 trillion to the economy. The growing demand for decentralized platforms that cater to this expanding workforce has given rise to platforms like DeeLance, a decentralized blockchain-powered freelancing and recruitment metaverse platform.
DeeLance is designed to provide a secure, transparent, and user-friendly platform for freelancers, utilizing blockchain technology to tokenize freelance work products into non-fungible tokens (NFTs). This approach directly addresses the long-standing challenges in the digital freelancing space, such as copyright infringement and payment fraud.
By tokenizing work products into NFTs, DeeLance enables a secure and reliable transfer of work ownership, providing unprecedented security and peace of mind to all stakeholders.
Crypto Presale Frenzy
DeeLance's ongoing crypto presale has already generated significant interest and funds, having raised over $750,000 in just over a month. The $DLANCE token price is set to increase from $0.029 to $0.033 within the next five days or when the targeted $2.5 million is reached. The token will be listed on major cryptocurrency exchanges at $0.055 in Q3 2022.
Crypto Presale Gathering Momentum
DeeLance's unique approach lies in the tokenization of freelance work products into NFTs, providing a secure and reliable transfer of work ownership. This solution addresses the challenges faced by remote workers, such as copyright infringement and payment fraud, providing an unprecedented level of security and peace of mind to all stakeholders.
DeeLance also prides itself on accessibility and affordability, with no browser plugins, third-party apps, or credit card details required during the sign-up process. Fees are low, payments are fast, and everything is transparent and secure with the escrow system and smart contracts.
DeeLance's Crypto Presale: The Metaverse's Golden Ticket
DeeLance envisions a metaverse that redefines remote work standards, creating a seamless working environment for freelancers. The DeeLance metaverse offers a community where users can socialize with others, make genuine connections, and gain access to unique tools and services with $DLANCE tokens.
In addition to the tokenization of freelance work products, DeeLance incorporates a generalized NFT marketplace for popular assets such as art, photography, trading cards, tickets, and music. $DLANCE is the economic backbone of DeeLance's metaverse freelance and remote working platform and offers multiple use cases for its holders.
DeeLance's marketing strategies, including affiliate programs, social media, influencer, and content marketing, have resulted in significant coverage across major crypto news websites. The project's Twitter account has also gained more than 29,000 followers, reflecting its rapidly growing social media presence.
DeeLance's Crypto Offering: Unlocking Metaverse's Freelance Potential
As DeeLance's community expands, crypto analysts are optimistic about the potential gains for $DLANCE in the year ahead. Analyst Jacob Crypto Bury sees "massive potential" in DeeLance, while another analyst, Smallcap DE, predicts that $DLANCE could have an 18x growth potential.
DeeLance's presale offers 30% of the total 1 billion supply of $DLANCE tokens. The ERC-20 token, issued on the Ethereum blockchain, can be easily purchased using Ether (ETH) or Tether (USDT) on deelance.com. For those who do not own these cryptocurrencies, $DLANCE can also be bought using a credit or debit card through Dee