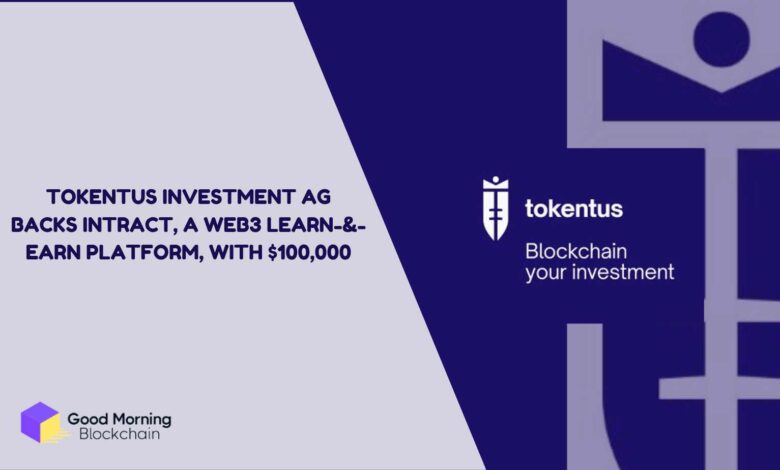 Tokentus Investment AG, a Frankfurt-based venture capital company that focuses on the blockchain market, has announced that it has invested $100,000 in the seed round of Intract Tech PTE LTD, a Singapore-based corporation that operates a Web3 learn-&-earn platform.
The seed round raised a total of USD 3 million from various investors, including Alpha Wave, BITKRAFT, gumi Cryptos Capital, Polygon, DeVC, MoonPay, Web3 Studios, and several strategic angel investors.
Intract is a platform that helps Web3 users connect with and explore the communities of their choice through interactive and gamified journeys.
The platform can be used to learn about various Web3 topics, such as NFTs, DAOs, DeFi, and DApps, and earn rewards in the form of loyalty points, NFTs, and tokens. Web3 projects can also use Intract to acquire engage and build community loyalty
Intract was founded in 2022 by a team of experienced Web3 growth experts, founders, and data analysts.
The platform has already collaborated with several Web3 partners, such as Binance, Polygon, 1inch, and others, to help more than 1.4 million users learn and earn in Web3.
The next step for Intract is to build a home for the next billion users to unlock the true value of web3
Oliver Michel, CEO of Tokentus Investment AG, said that user management is of central importance in web3, as a web3 company's own community is its asset.
He added that Tokentus identified Intract as an important and essential platform for web3 and decided to invest in it.
Also, he was quoted saying "The group of investors participating in the seed round is a good indicator of sound economic and financial backing.
About Tokentus
Tokentus Investment AG (ISIN: DE000A3CN9R8; WKN: A3CN9R; symbol: 14D) is an investment company that invests worldwide in blockchain-based business models.
The company's shares are listed on the m:access trading segment (unofficial market) of the Munich stock exchange and traded on XETRA and other German stock exchanges
Source: Tokentus