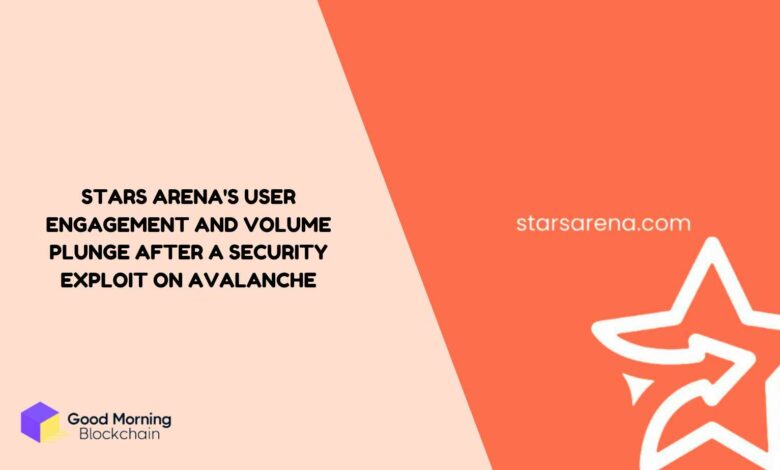 In other news surrounding the world of web3, Stars Arena, a social finance platform on the Avalanche blockchain, has seen a significant decline in its user engagement and transaction volume in the past week.
While the main cause is yet to be verified, it is suspected that it occurred following a security breach that resulted in a loss of $3 million in AVAX tokens.
The platform, which allows users to buy and sell shares of X (formerly Twitter) personalities, has lost its momentum and popularity among the Avalanche community.
According to data from DappRadar, Stars Arena's daily active wallets have dropped from over 18,000 on October 4 to less than 4,000 on October 11, a decrease of more than 77%.
Similarly, the platform's daily transaction volume plunged from over $4.8 million on October 4 to less than $300,000 on October 11, a decrease of more than 93%.
The main reason for Stars Arena's decline is the security exploit that occurred on October 5, when an attacker managed to drain around $3 million worth of AVAX tokens from the platform's smart contract.
The exploit was possible due to a vulnerability in the contract's logic that allowed the attacker to mint unlimited shares of any user and sell them for AVAX.
It was detected by some users who warned the developer and the community on X, but it was too late to prevent the damage.
The developer of Stars Arena, who goes by the name of theBuilder on X, claimed that he had reached an agreement with the attacker and recovered 90% of the stolen funds after paying a 10% bounty fee plus 1000 AVAX.
He also assured the users that he would distribute the recovered funds to the affected users and resume the normal operations of the platform.
However, many have expressed their distrust and dissatisfaction with the developer and the platform, accusing him of negligence, incompetence, or even complicity in the exploit.
Some users have also reported that they have not received their refunds or that they have received less than they expected. Others have complained that they have lost access to their accounts while trying to access Stars Arena.
As a result of this incident, Stars Arena has lost its reputation and credibility as a social finance platform on Avalanche.
The platform, which was once a rising star and a rival of Friend.tech on Base, has now become a cautionary tale and a reminder of the risks and challenges of decentralized applications.