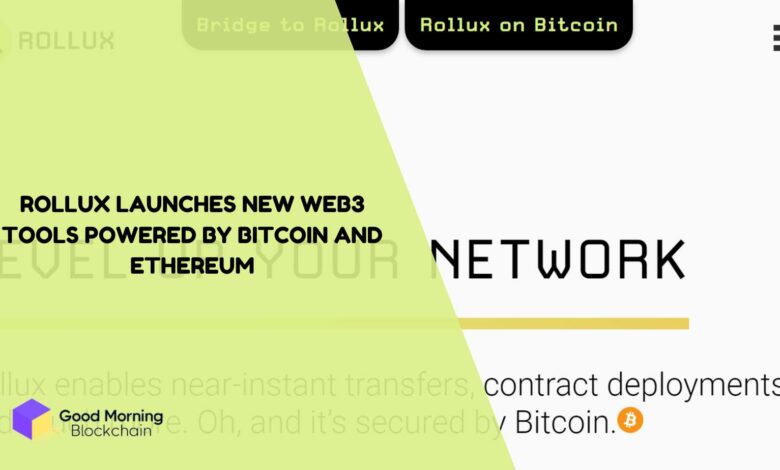 Rollux, an EVM Layer-2 solution that leverages the strength of Bitcoin to optimize the performance of Ethereum network applications, has announced the launch of its next phase of growth, which involves introducing a full suite of DeFi tools to its ecosystem.
The tools include a ZK-lite client, cross-chain bridges, DEXs, liquidity protocols, yield aggregators, and a launchpad.
The main purpose of the launch is to create a comprehensive Web3 ecosystem that gives users more value and rewards for their engagement and participation.
Rollux is developed by SYS Labs, a web3 product suite powered by Syscoin, a blockchain platform that features both a native UTXO chain and an NEVM chain.
It was designed to address the blockchain trilemma and achieves this by using OP Stack. This technique allows for data availability on Syscoin's UTXO chain, and PoDA, a protocol that ensures data availability on Syscoin's NEVM chain.
With its next growth phase, Rollux plans to improve its functionality across blockchains while providing end-to-end web3 tools and services to its users. Some of the tools that Rollux has launched are:
Chainge: a cross-chain aggregated DEX that allows users to swap tokens across various blockchains with low fees and high liquidity.
Agave: is a DeFi lending protocol allowing traders to borrow and lend crypto assets with variable interest rates and collateral ratios.
Gamma: a liquidity protocol that allows users to provide liquidity to various pools and earn rewards in the form of LP tokens and fees.
Nexter: a prediction market for traders to bet on the outcome of various events and scenarios with crypto.
GoRollux: a launchpad to discover and invest in new and promising projects built on Rollux.
Beefy: a yield aggregator to optimize returns from various DeFi platforms with automated strategies.
LayerSwap: the first and only bridge that allows for direct and instant transfers from centralized exchanges to blockchains.
These tools join the existing ones that Rollux has already introduced, such as Pegasys DeFi exchange and AMM, Luxy NFT Platform, Pali Wallet (web & mobile), DAOSYS, and Camada.
Together, they join an ecosystem of diverse web3 tools that cater to the various needs of web3 entrepreneurs.
You can learn more about Rollux and its tools by visiting its official website