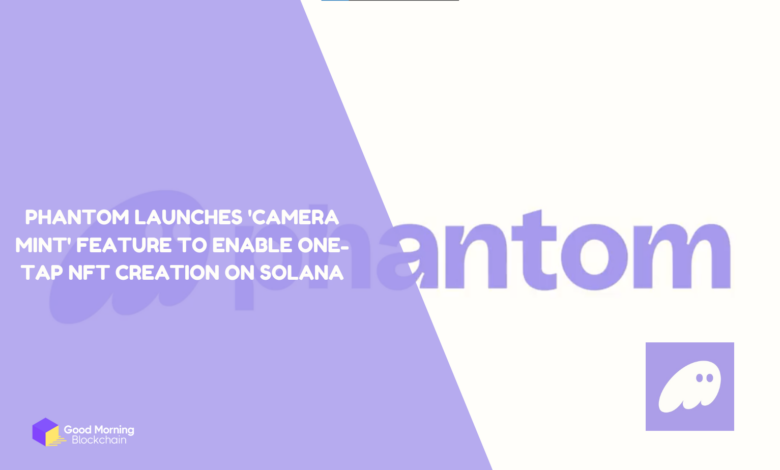 Phantom, a popular crypto and NFT wallet for the Solana blockchain has announced a new feature that allows users to create NFTs from their mobile devices with just one tap.
The feature, called 'Camera Mint', is designed to make NFT creation more accessible and fun for everyone, regardless of their technical skills or experience.
With 'Camera Mint', any photo, video, meme, tweet, or other media file can be turned into a Solana-based NFT in seconds.
On the app, the NFTs are then stored under the "Collectibles" tab within the Phantom app. It can be shown in high resolution, shared with others, or transferred to other wallets or marketplaces.
Phantom also offers advanced metadata options and integrations with creative platforms for more customization and collaboration.
'Camera Mint' is not only a tool for creating digital art and collectibles but also a way to preserve personal memories and moments on the blockchain.
Favorite photos and videos can be minted as NFTs and kept forever as unique and immutable digital assets.
To celebrate the launch of 'Camera Mint', Phantom is giving away free commemorative NFTs to the first users who try out the feature.
The NFTs are designed by Phantom's team and feature the 'Camera Mint' logo and a QR code that links to the Phantom website.
'Camera Mint' is available on Phantom's mobile app, which can be downloaded from the App Store or Google Play.
Phantom is also working on bringing the feature to its desktop app and browser extension in the future.
About Phantom
Phantom is one of the leading crypto and NFT wallets for the Solana ecosystem, which supports over 200 projects and millions of users.
Phantom provides a simple and secure way to interact with the decentralized web and empowers users to create, collect, and trade NFTs on Solana.
For more information, visit their official website or their official X handle.