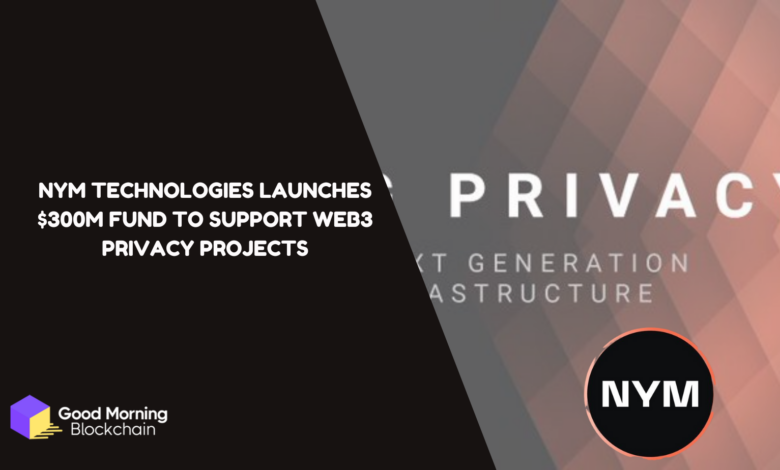 Recently, a Swiss blockchain privacy firm launched a $300 million fund to support projects in building security and privacy-focused infrastructure for the Web3 space.
The fund, called the Nym Innovation Fund, will draw capital from prominent venture capital investors such as Polychain, KR1, Huobi Incubator, and Eden Block.
The fund will focus on providing mentorship and funding to projects that are developing Web3 privacy tools and services, such as Web3 wallets, remote procedure call (RPC) protocols, and public good services.
Projects that improve user privacy, promote open-source cooperation, and promote community involvement will also be given priority by the fund.
Nym Technologies, the blockchain privacy firm behind the fund, has developed a decentralized mixnet to protect internet traffic and its visitors from surveillance and unauthorized data collation.
To achieve this, the mixnet makes use of zero-knowledge proofs to protect user identities and online activity.
Now, every visitor can connect to the mixnet via zk-nyms, which serve as cryptographic tokens to prove network membership without revealing any personal information.
Nym Technologies CEO and co-founder Harry Halpin said in a press release that privacy is essential for ensuring that the Web3 space remains resistant to censorship and avoids the pitfalls of Web2:
"This programme will ensure the health of the privacy ecosystem but it will also advance the Web3 industry as a whole, providing mentorship and funding during this difficult macroeconomic climate."
Halpin also told Cointelegraph that prospective projects that apply for funding could receive investments from Nym's fund as well as directly from its venture capital backers
The fund is set to begin in November 2023 and will accept applications from projects that meet the following criteria:
They must use or integrate with Nym's mixnet or other privacy technologies.
They must have a clear vision and roadmap for their project.
They must have a working prototype or proof of concept.
They must have a strong team with relevant experience and skills.
In addition to the fund, Nym Technologies also launched the Nym Grants program, which will offer further funding opportunities, developer assistance, mentorship, marketing support, community engagement, and operational guidance to selected projects.
In our opinion, the fund comes at a time when privacy is becoming a major concern for web3 users and developers.
There are high hopes that it actually achieves its aim by reducing privacy concerns faced by individuals and users of web3 applications.