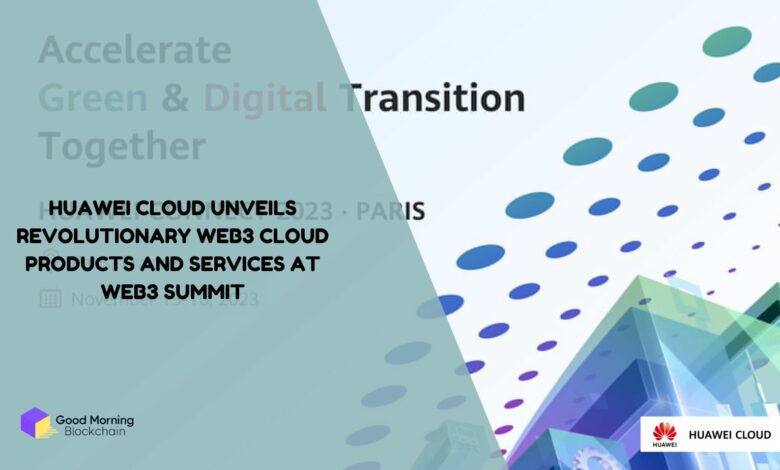 Huawei Cloud, the cloud computing arm of Huawei Technologies, has announced a range of web3 cloud products and services at the SUSTAINABLE WEB3 SG 2023 Summit, a side event to the Singapore FinTech Festival, on 14th November 2023.
One of the key products that Huawei showcased at the summit is the Web3 Node Engine Service (NES), a blockchain node engine platform for the simplification of blockchain network management, resource management, and authentication.
NES allows users to run full nodes and staking nodes on various blockchain protocols, such as Ethereum, TRON, Polygon, Arbitrum, and layer 2, without worrying about the underlying infrastructure.
NES also features a Distributed Validator Technology (DVT) that for users to deploy nodes in clusters to ensure high availability and reliability, as well as to optimize the performance and rewards of validators.
Another product that Huawei Cloud introduced at the summit is the Ubiquitous Cloud Native Service (UCS), a service that extends cloud-native to where the business goes.
UCS supports the deployment and management of cloud-native applications across different environments, such as edge, hybrid, and multi-cloud. UCS also integrates with NES to provide seamless connectivity and interoperability between web3 and web2 applications.
Huawei Cloud also demonstrated its capabilities and solutions for Decentralized Physical Infrastructure Networks (DePIN), a concept that aims to establish a more equitable and efficient infrastructure network by leveraging Web3 technologies.
DePIN covers various sectors, such as cloud and storage networks, wireless networks, sensor networks, energy networks, and more.
Huawei Cloud provides users with the tools and platforms to build and manage their own DePIN services, as well as to access existing DePIN services offered by other providers.
In addition, Huawei Cloud also shared its vision and initiatives for Regenerative Finance (ReFi), a new paradigm of finance that leverages blockchain and fintech innovations to create positive social and environmental impacts.
ReFi encompasses various domains, such as green finance, social finance, impact investing, and more. Huawei Cloud provides users with the infrastructure and applications to participate in ReFi activities, as well as to measure and verify the outcomes of their actions.
The SUSTAINABLE WEB3 SG 2023 Summit was jointly organized by the Singapore University of Social Sciences (SUSS) Node for Inclusive Fintech (NiFT) and Wanxiang Blockchain Labs, with Huawei Cloud as the title sponsor.