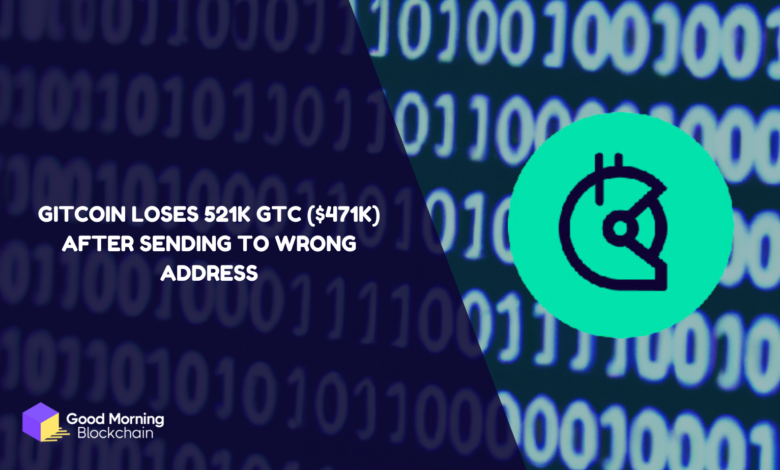 Gitcoin, a platform that supports open-source projects and public goods through grants and crowdfunding, has accidentally sent 521,000 GTC tokens (worth about $471,000 at the time of writing) to the wrong address.
The incident was shared on the Gitcoin Governance platform on October 9, 2023, when Gitcoin was trying to distribute GTC rewards to its community members.
According to a tweet by X user @LefterisJP, the mistake was caused by a typo in the recipient's address.
The typo resulted in sending the tokens to an address that does not belong to anyone and is likely unrecoverable.
On the governance platform, a user named Coach Jonathan apologized for the error and said that Gitcoin would cover the loss from its own funds.
Gitcoin is one of the leading platforms for funding open-source projects and public goods in the web3 and crypto space. It uses a mechanism called quadratic funding, which matches donations from individuals with grants from sponsors, creating a more democratic and efficient way of allocating resources.
Gitcoin also has its own governance token, GTC, which was launched in May 2023. GTC holders can participate in the decision-making process of the platform and benefit from its growth.
The accidental loss of GTC tokens is unfortunate, but it also highlights the risks and challenges of managing crypto assets.
It shows the need to be careful when entering or copying addresses, as a single mistake can result in irreversible losses.
Moreover, it shows the need to secure their private keys and wallets, as hackers and scammers are constantly trying to steal funds from unsuspecting victims. As the web3 space grows and matures, more tools and solutions are needed to improve the usability and security of crypto transactions.
External links: Statement on the Gitcoin Governance Forum