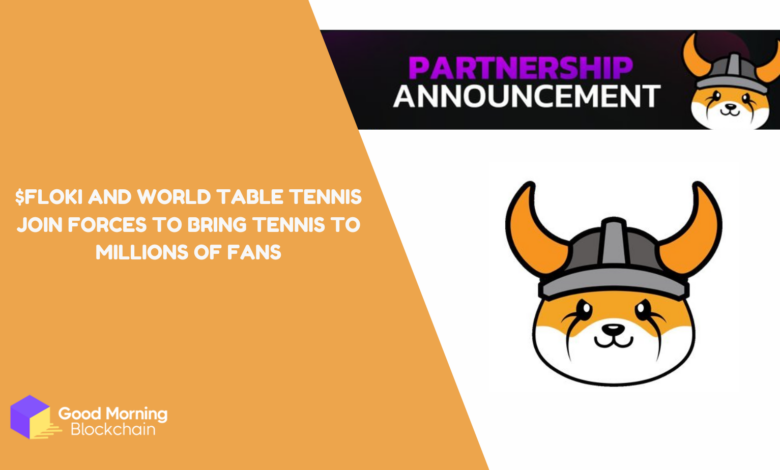 To commemorate the WTT Champions event taking place in Frankfurt between October 29 and November 5, 2023, $FLOKI has announced a partnership with World Table Tennis.
While the full details of the partnership have not been revealed, $FLOKI will sponsor WTT's upcoming events, such as the WTT Contender Series and the WTT Star Contender Series, which are scheduled to take place in various locations around the world between October 29 and November 5, 2023.
$FLOKI will also have its logo and branding displayed on the official WTT website, social media channels, and live stream.
In addition, $FLOKI and WTT will collaborate to create exclusive NFT collections featuring some of the top table tennis players and moments from WTT's history.
These NFTs will be available for purchase on FlokiPlaces, $FLOKI's NFT and merchandise marketplace.
$FLOKI holders will also have the opportunity to win free tickets, VIP access, and meet-and-greet sessions with WTT's stars at selected events.
The WTT partnership will introduce Floki and our sister token to a massive, hard-to-reach TV and digital audience through match table LED display, table side A-boards, WTT website brand mark placement, global press releases, and social media posts across global WTT social channels for the tournament
About Floki
$FLOKI is one of the fastest-growing cryptocurrencies in the web3 space, with over 475,000 holders and a market cap of over $250 million. It is available on over 100 exchanges globally, including Binance, OKX, Crypto.com, Kucoin, and more.
$FLOKI is also working on other utility projects, such as FlokiFi, FlokiPrepaid, and the University of Floki (a crypto-education platform)
To learn more about $FLOKI and its ecosystem, visit their website or follow them on X. To learn more about WTT and its events, visit their website or follow them on YouTube.
Press Release: Floki To Reach 120 Million People Through Strategic Partnership with Table Tennis