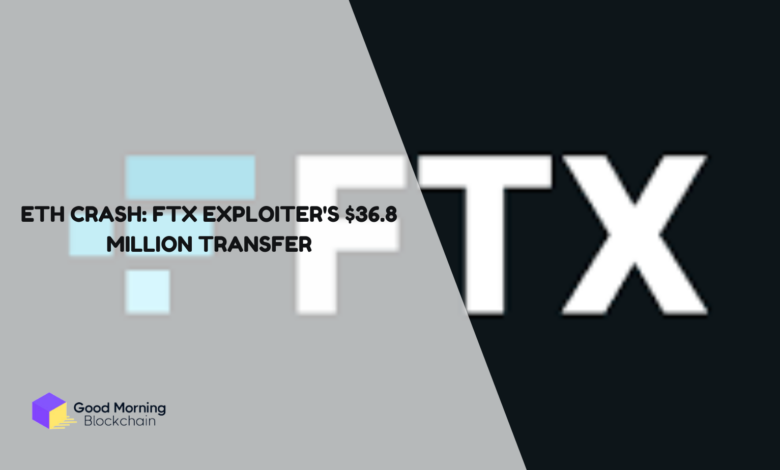 The crypto market witnessed a sharp drop in the price of Ether (ETH) on Tuesday, October 5, as the second-largest cryptocurrency by market cap plunged by more than 10% in hours.
The crash coincided with a large transfer of ETH by the hacker who exploited the FTX exchange last year and stole over $600 million worth of crypto assets.
According to data from Spot On Chain, the hacker moved roughly $36.8 million worth of ETH in the last 24 hours, starting with a transfer of 10,250 ETH worth $17.1 million via four addresses between September 30 and October 1.
The hacker initially held 175,496 ETH ($294 million), but the current balance in their portfolio has come down to $196.014 million after a series of transfers.
The ETH crash and the FTX hack are reminders of the risks that the web3 industry as a whole faces, especially in terms of security and regulation.
While web3 technologies may offer many benefits and opportunities for growth, it also exposes its users to potential threats and vulnerabilities that require constant vigilance and protection.
The hacker transferred most of the ETH through Thorchain router and Railgun contract and also swapped some ETH for Bitcoin (BTC).
Right now, it is unclear what the motive was for moving the funds, but some speculate that they might have been trying to cash out or avoid being tracked by law enforcement.
The FTX hack occurred on November 11, 2022, when the exchange was hit by a malware attack that drained its accounts linked to FTX and FTX US.
The exchange led by Sam-Bankman Fried filed for Chapter 11 bankruptcy shortly after the incident and informed its users about the breach. The hacker remained silent for nearly 10 months until they started siphoning out the stolen funds in late September.
See also: Sam Bankman-Fried: From FTX to Federal Detention
The hack also involved Sam Bankman-Fried (SBF), the former CEO of FTX, who is currently facing fraud and money laundering charges in connection with the collapse of the exchange. SBF pleaded not guilty to all seven counts and his trial began on October 3.
The Department of Justice (DOJ) alleges that SBF misled investors and customers about the financial situation and security of FTX, while his defense team argues that he was a young entrepreneur who made business decisions that "didn't work out."