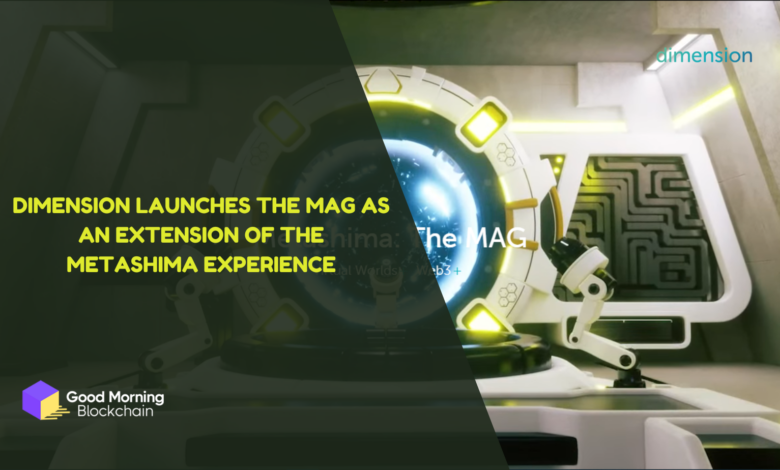 In other news, Dimension, a Web3 studio has launched its first virtual interactive space called the MAG.
The MAG is a futuristic facility and retreat located on a secluded virtual island, where users can interact with and customize their Metashima.
The launch now marks the next step on Metashima's journey to becoming a personal assistant that transcends virtual and physical worlds.
Metashima is a project created by Dimension, a studio that specializes in Web3 and mixed reality technologies.
It was officially launched in 2022 with the release of the first 5000 3D digital droids, built on the Ethereum blockchain using an auto-generative system that combines various design elements, such as colors, shapes, textures, and accessories.
The facility, which was launched on October 4th, is an extension of the Metashima experience that allows users to explore and learn more about their virtual companions.
The MAG consists of three areas: the island, the living space, and the lab.
The island is a scenic and relaxing environment where users can enjoy the views and sounds of nature
The living space is a spacious and comfortable area where users can lounge and socialize with their Metashima.
The lab is a state-of-the-art workshop where users can customize their Metashima using various features, such as skin packs, accessories, animations, and more.
The MAG is built entirely in Unreal Engine and makes use of account abstraction, a feature that allows smart contracts to be written into self-hosted wallets.
The MAG also uses the Polygon network, a layer 2 scaling solution that enables fast, cheap, and secure transactions on Ethereum.
Simon Windsor, co-CEO of Dimension Studio and creator of Metashima, was recorded in a statement saying
"As mixed reality technologies become an increasing part of our everyday lives, we see a future where Metashima and other virtual products will co-exist – providing value and enjoyment in various aspects of people's daily lives, both in the virtual and real world. For example, it could assist with real-world tasks by providing contextual utility, information, location-based games, or even helping by ordering your coffee.

Simon Windsor, CEO, Dimension Studio
The MAG facility can be accessed via a desktop application that requires a MAG token which has been exclusively sent to all Metashima holders before the official launch.
Newcomers can access the MAG by purchasing a token on the secondary market via OpenSea marketplace
To learn more about the project, visit the official website.