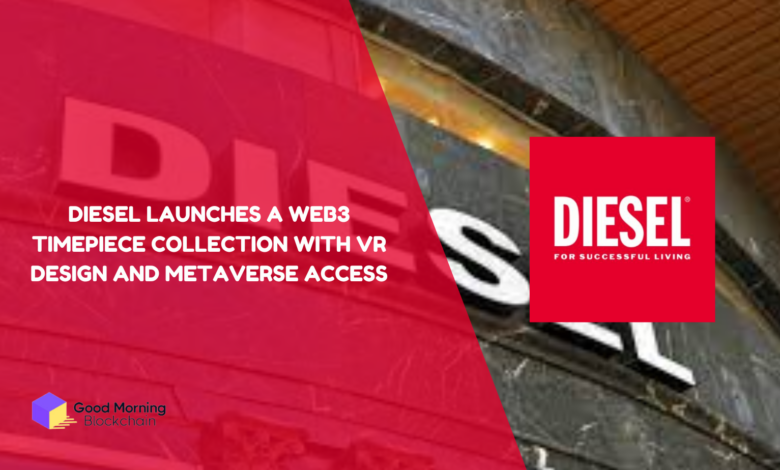 Diesel, the Italian fashion brand, has unveiled its latest innovation in the field of web3: Vert, a timepiece collection that is entirely designed and created using virtual reality (VR) technology.
The collection is part of Diesel's Metamorph project, which aims to bridge the gap between the physical and digital worlds and redefine conventional design.
Vert consists of five variations of the physical watch, with two being limited edition models, restricted to 300 pieces.
The watches have a futuristic and organic appearance, inspired by the concept of vertebrae or bone structure, and are curated by Diesel's Creative Director, Glenn Martens, who utilized the concept of VR technology to create the watches.
Each watch from Vert's collection comes with a non-fungible token (NFT), and grants access to an exclusive metaverse experience called the Diesel Metamorph, where users can interact with their avatars and other players in a virtual world.
The NFT avatars, or A:VERT:ARs, are based on the design and details of the classy Vert wristwatch.
They evolve through three stages, depending on the choices of the holders, and according to Forbes, holders can also mint their avatars and trade them on the listed marketplaces
The Diesel Metamorph is an immersive and interactive web3 brand experience, developed in partnership with media-tech artists from Artificial Rome.
It is a unique metaverse backed by Fossil Group in which the visitors can explore a fictional land where time has stopped and complete various challenges to reactivate it. The experience culminates with a virtual concert by artist Lil' Dre.
The Diesel Metamorph experience is not exclusive to watch owners but to everyone in and outside the community. Anyone can participate in the background by receiving a basic avatar.
However, only watch owners can access the full features and benefits of the experience.
The Vert collection and the Diesel Metamorph experience are part of Diesel's innovative web3 strategy, which aims to appeal to a wider audience beyond web3 natives and drive forward web3 adoption.
For now, it is available on Diesel.com, in selected stores while the Diesel Metamorph experience will start on November 2 at 10 p.m. ET and end on November 17 at 9 a.m. ET on vert.diesel.com
To view an extensive review of more NFT projects, visit the NFT Projects Tab.