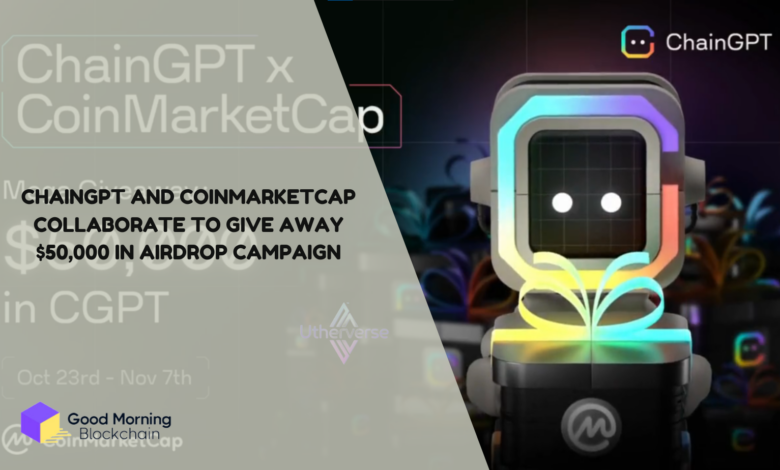 The advanced AI model for blockchain and crypto-related topics, ChainGPT, has announced a partnership with CoinMarketCap, the leading platform for cryptocurrency data and information.
As part of the partnership, ChainGPT and CoinMarketCap will host a $50,000 airdrop campaign for CGPT holders and users over a span of 2 weeks.
The airdrop will be aimed at promoting ChainGPT's utility token, CGPT, and its ecosystem of AI-powered tools and products.
The airdrop will distribute 100,000 CGPT tokens to 1,000 lucky participants who complete certain tasks and requirements.
Its native token, $CGPT, was launched on June 19th, 2023 to serve the ChainGPT community as a medium of exchange, a store of value, and a reward mechanism.
CGPT is based on the Ethereum blockchain and follows the ERC-20 standard. Holders of the token can use it to pay for the services and features offered by the ChainGPT platform,
ChainGPT's airdrop initiative comes on the heels of several significant achievements.
Recently, The $CGPT token was recently listed on HTX, a tier-1 exchange formerly known as Huobi. This listing provides broader access to ChainGPT's native token, increasing its global reach and liquidity.
Also, ChainGPT received a Gas Grant from BNB Chain, recognizing the project's exceptional contributions within the BNB ecosystem.
According to a tweet on X from ChainGPT on October 18th, 2023, the airdrop campaign will run from October 23rd to November 7th, 2023.
October has been a highly productive month for ChainGPT, with the $50,000 airdrop collaboration with CoinMarketCap, the HTX listing, the BNB Chain grant, and the successful OpenFabric IDO, which raised $150,000 in a matter of seconds.
The tasks and requirements include holding at least 500 CGPT tokens in your wallet address and following ChainGPT and CoinMarketCap on Twitter.
Also, joining ChainGPT's Telegram group and channel is a requirement as well as, retweeting the airdrop announcement tweet with the hashtag #ChainGPTxCoinMarketCap, and filling out a Google form with your details and wallet address.
To find out more details on the airdrop, visit the official reveal tweet by ChainGPT below