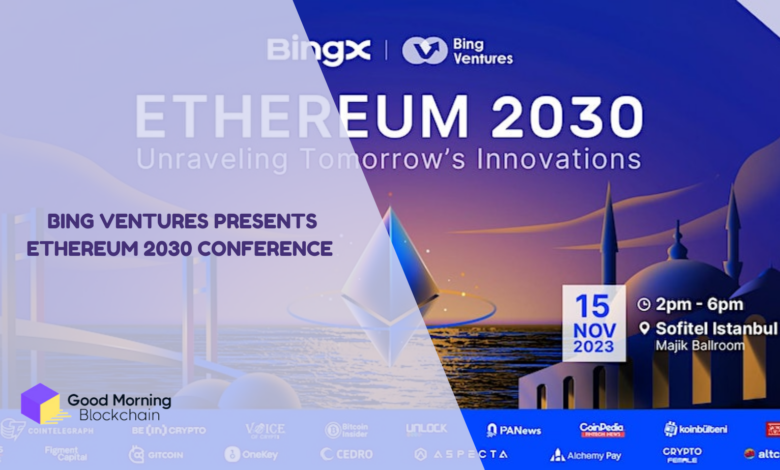 Bing Ventures, a crypto and web3-focused venture capital firm, is proud to present Ethereum 2030, the premier event of Devconnect, a week-long gathering of independent Ethereum events in Istanbul.
Ethereum 2030 is a one-day conference that will explore the future of Ethereum and its impact on various domains, such as decentralized finance, governance, scalability, privacy, and more.
The conference will feature keynote speeches, panel discussions, workshops, and networking opportunities with some of the most prominent and influential figures in the Ethereum ecosystem.
Ethereum 2030 will take place on November 15, 2023, at Majik Ballroom, Sofitel Istanbul Taksim, a five-star hotel with stunning views of the city.
The conference will start at 4:30 AM and end at 1:30 PM, followed by a cocktail reception and an after-party for networking. The conference will host over 500 attendees, including developers, researchers, entrepreneurs, investors, regulators, and enthusiasts worldwide.
Some of the confirmed speakers for Ethereum 2030 include:
Azeem Khan, Head of Impact at Gitcoin
Yajin (Andy) Zhou, CEO of Blocksec
Jack He, Co-founder at Aspecta
Bertuğ Oymak, Co-Founder and CEO of Utilify
Dougie DeLuca, Investor at Figment Capital
Anne-Grace Kleczewski, Co-Founder and Chief Legal Officer at Keom Protocol
Luca (Moss) Mossini, BD at Avantgarde & Enzyme Finance
Mete (Ali) Başkaya, Blockchain & Crypto Lecturer
Seraphim Czecker, Head of Taking Risk
Varuni Trivedi, Editor in Chief at Voice of Crypto
Anıl Öz, Chief Technology Officer at DATS Project
TY, VP of Business Development at Metatrust labs
Arif Kalem, Brand Ambassador of Turkey at BingX
Özge ERDEMİR, Web3 Advisor, Business Developer
Fatih Taşdemir, Co-Founder of Koin Bülteni
Volkan KORKMAZ, CEO and Co-Founder at Altcointurk
Sima Baktas, Web3 Attorney at GlobalB Law / Co-Founder of CryptoFemale
Daria Krasnova, Managing Editor at BeInCrypto
Ethereum 2030 is a must-attend event for anyone who is interested in the future of Ethereum and web3. It is a rare opportunity to learn and connect with the leaders of the Ethereum community and to witness the developments shaping the next decade of Ethereum.
To register for Ethereum 2030, please visit the official website and follow the instructions.
All tickets include access to all sessions, workshops, lunch, coffee breaks, reception, and after-party celebrations.
Ethereum 2030 is part of Devconnect, a week-long gathering of independent Ethereum events to learn, share, and make progress together.
Devconnect is organized by the Ethereum Foundation and supported by various sponsors and partners, such as Bing Ventures, ConsenSys, Parity Technologies, Uniswap, Compound, Synthetix, and more.
It will take place from November 13 to November 19, 2023, in various venues across Istanbul. It will feature multiple events, each with a unique focus, such as decentralized systems, scalability, privacy, incentive mechanisms, UX, governance, and more.
To learn more about Devconnect and its events, please visit the official website